Press
THR Gets Season 4 Scoop ; Andrew Lincoln Chats With EW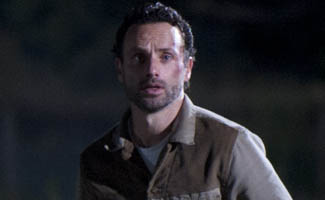 This week, the cast and crew offers some Season 4 teasers to The Hollywood Reporter, while Andrew Lincoln reveals to Entertainment Weekly that he doesn't watch The Walking Dead. Plus, Steven Yeun talks Glenn with A.V. Club, Dread Central and TV Fanatic. Read on for more:
• Ahead of the Season 4 premiere, in The Hollywood Reporter, The Walking Dead's cast and crew teases a little bit of what's to come, from Tyreese's true character to whether Rick will lose a hand.
• Why doesn't Andrew Lincoln watch The Walking Dead? He explains all to Entertainment Weekly.
• Steven Yeun talks to A.V. Club about how "every year there's been a call for some crazy stunt" for Glenn. Dread Central interviews Yeun, who calls Glenn "the most equipped to evolve since the series began," aside from Carl. Speaking with TV Fanatic, Yeun says that Glenn is "such an embodiment of the every man and to be able to play this as an Asian American, as well, is fantastic."
• Robert Kirkman tells Entertainment Tonight that "as rough a time as the characters have had thus far, season four's going to be rougher."
• Entertainment Weekly reports that the University of California Irvine is partnering with AMC to offer an online course called "Society, Science, Survival: Lessons from AMC's The Walking Dead."
• Reviewing the Season 3 Blu-ray, DVD Talk calls The Walking Dead "one of the most affecting shows on cable, with excellent writing, complex characters and impressive production values." Hypable's favorite bonus features are the audio commentaries and deleted scenes.
• Bloody Disgusting checks out Robert Kirkman's visit to the Season 4 prison set.
• To stay up-to-date on all the latest news about The Walking Dead, sign up for the weekly Dead Alert newsletter.
Read More