Over 15 Million People Worldwide Infected by The Dead Yourself Zombie Virus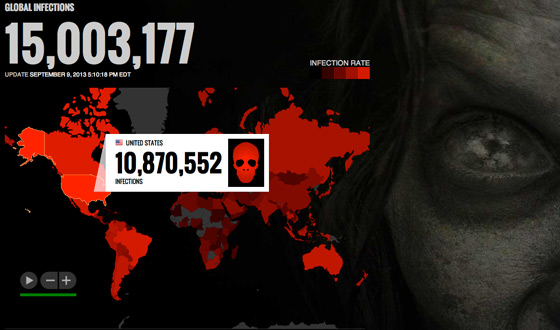 The Walking Dead's Dead Yourself App has been tracking the spread of the zombie virus and as we inch closer to Friday the 13th, the zombie population appears to be growing at an alarming rate. Over 15 million cases have been reported with photos via iPhone, Android and Facebook. While about 72% percent of total infections have been reported in the United States, the epidemic has spread worldwide. Country of origin remains unknown. Take a look at the top thirteen countries with walker infections. They're not what you might necessarily think.
1. United States: 10.8 million
2. Canada: 815,000
3. Italy: 448,000
4. United Kingdom: 430,000
5. Brazil: 405,000
6.  Mexico: 364,000
7. France: 168,000
8. Germany: 134,000
9. Australia: 129,000
10. Spain: 121,000
11. Argentina: 115,000
12. Philippines: 104,000
13. Turkey: 83,000
Is nowhere safe? That's still to be determined. For the moment, Mali, Chad, North Korea and Papua New Guinea currently have no reported cases. That could change quickly however.  To find out where your country ranks, take a look at the Global Infection Map.
The Walking Dead returns Sun., Oct. 13 at 9/8c on AMC.
Read More