Press
Robert Kirkman Shares Season 4 Details; EW Chats With Newcomer Lawrence Gilliard, Jr.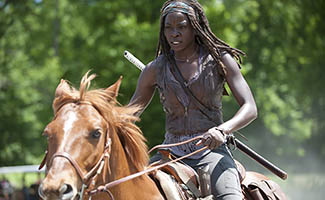 This week, TVLine gets some Season 4 tidbits from Robert Kirkman, while Lawrence Gilliard, Jr. talks about getting a part on the show. Plus, TV Guide loves Dallas Roberts. Read on for more:
• Robert Kirkman offers some Season 4 spoilers to TVLine, including the fact that the Governor will be "a very different character" when he eventually returns.
• Entertainment Weekly interviews Lawrence Gilliard, Jr., who talks about how he got cast as Bob Stookey, even though Scott Gimple didn't want anymore actors from The Wire on The Walking Dead.
• One reason why TV Guide loves Dallas Roberts? Because Milton died "in such a riveting way" on The Walking Dead.
• TVLine gets Robert Kirkman's thoughts on Rick and Michonne's friendship.
• Bloody Disgusting offers five ways to prepare for Season 4.
• The Huffington Post showcases the new Season 4 poster, featuring Andrew Lincoln as Rick.
• Bloody Disgusting spotlights a new Season 4 teaser that features Daryl and Michonne. Rolling Stone checks out another one with Rick, Carol and Carl "while a voice begs for help." 411mania.com teases an upcoming zombie attack in a third teaser, and Wetpaint has a fourth.
• The Los Angeles Times reports that The Walking Dead's Season 3 was the top-selling DVD and Blu-ray title for the week ended Aug. 31, according to Rentrak.
• GeekExchange.com's rave review of the Season 3 Blu-ray says The Walking Dead "cleverly and consistently remains thoroughly grounded in the characters and the emotional rollercoaster each must ride daily."
• Wetpaint catches you up on what The Walking Dead's dearly departed are up to now.
• The High Definite has a Dr. Seuss-like recap of The Walking Dead's Season 3.
• Catch Andrew Lincoln in Strike Back Origins on Cinemax next month, reports the Chicago Tribune.
• To stay up-to-date on all the latest news about The Walking Dead, sign up for the weekly Dead Alert newsletter.
Read More