Press
Robert Kirkman Previews Season 4 Walkers to TVLine; Danai Gurira Featured in USA Today, W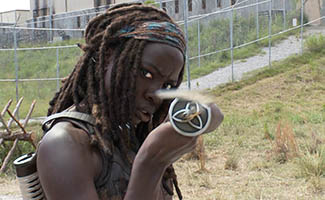 This week, Robert Kirkman talks to TVLine about Season 4's walkers, while USA Today and W Magazine both interview Danai Gurira. Plus, The Walking Dead is getting a spinoff. Read on for more:
• Robert Kirkman shares with TVLine that the Season 4 walkers will be "really intense, scary, very detail-oriented" and adds they're not " changing their methods or behavior or evolving in any kind of major way."
• Talking to USA Today, Danai Gurira says that, at the start of Season 4, Michonne is "grappling with the fact that she's such a loner, but she's chosen this community…"
• Danai Gurira is named a member of Generation W by W Magazine, which celebrates the actress as an award-winning playwright.
• While promoting her new film, Mother of George, Danai Gurira tells the Los Angeles Times that what she loves about The Walking Dead is "that it demands everything of me, physically and emotionally."
• InStyle's feature on Danai Gurira notes that The Walking Dead actress is "slightly less ferocious in real life" than Michonne. (No Link)
• In more press, The Los Angeles Daily News speaks with Danai Gurira, who talks about playing Michonne: " I love playing an action character who demands a great deal from me and makes me have to become agile every time I walk in her boots."
• The Hollywood Reporter reports that AMC is developing a spinoff of The Walking Dead that's set to air in 2015.
• According to The Hollywood Reporter, Laurie Holden will join the cast of the Farrelly brothers' Dumb and Dumber sequel.
• The Poughkeepsie (N.Y.) Journal thinks The Walking Dead should win the best drama Emmy because it has "one of the best ensemble casts and strongest writing of any show on today."
• TVLine highlights the new Season 4 behind-the-scenes look, which includes Robert Kirkman calling the prison "a very dangerous place."
• WhatCulture shares its ideas of places to hide out during a zombie apocalypse that aren't a prison.
• What's the best way to get around during a zombie apocalypse? WhatCulture has some answers.
• To stay up-to-date on all the latest news about The Walking Dead, sign up for the weekly Dead Alert newsletter.
Read More