Press
AMC, Instructure and UC Irvine to Offer Free Online Course Based on The Walking Dead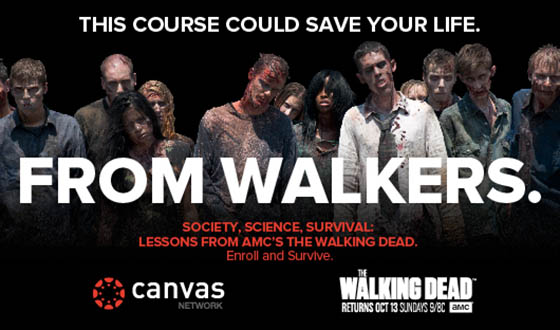 Ever wonder how you'd fare in a zombie apocalypse? AMC, Instructure and the University of California, Irvine today announced the joint production of a massive open online course (MOOC) exploring a broad range of topics through the lens of a hypothetical zombie apocalypse.
The free, eight-week MOOC, titled "Society, Science, Survival: Lessons from AMC's The Walking Dead," will be offered on Instructure's MOOC platform, Canvas Network, and will be taught by a multidisciplinary team of UC Irvine faculty: Zuzana Bic, public health; Joanne Christopherson, social sciences; Michael Dennin physics; and Sarah Eichhorn, mathematics.
Enrollment in The Walking Dead course is currently available to anyone in the world via Canvas.net/TWD. The first class is scheduled for Mon., Oct. 14, the day after the Season 4 premiere of AMC's The Walking Dead. The course will run for eight consecutive Mondays through Dec. 2. Because the series will air at different times around the world, Canvas Network will put in place provisions to help international participants avoid spoilers.
"The education industry continues to experiment with MOOCs and is yielding insights into how to economically educate on a global scale," said Instructure CEO Josh Coates. "The Walking Dead MOOC by UC Irvine will explore new ways to teach serious multidisciplinary academic curriculum in a popular social context that is engaging."
To learn more about The Walking Dead MOOC course and to enroll, visit Canvas.net/TWD
Read More