Press
TV Guide Talks Tyreese's Future; Norman Reedus Discusses Daryl's Chances of Survival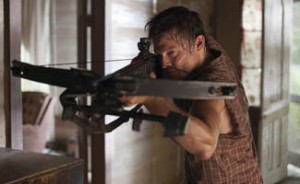 This week, TV Guide discusses how Tyreese will fit into the group of survivors, while Norman Reedus chats about Daryl's life expectancy on the show with ComicBook.com. Plus, David Morrissey is amazed the Governor made it to Season 4. Read on for more:
• TV Guide talks Tyreese, who will "wrestle with the rules of engagement around him and where he fits in that world," according to Chad Coleman.
• ComicBook.com talks to Norman Reedus about the possibility of Daryl's demise.
• "I was surprised but also delighted" to survive Season 3, David Morrissey shares with Digital Spy.
• Entertainment Weekly speaks with Dallas Roberts, Chad Coleman and Sonequa Martin-Green to find out how Zombie Milton's death originally played out.

• Gale Anne Hurd speaks with HLN about expectations for women in the workplace and the work/life balance, observing, "It's not a one-size-fits-all, and we need to respect each other's choices."
• Comic Book Resources reports that Danai Gurira participated in a "Fan Favorites" panel at Comic-Con and shared that the show she'd most like to appear on (other than her own) is Breaking Bad — while fellow panelists, Blair Underwood and Joseph Morgan, both chose The Walking Dead.
• Rock Cellar Magazine interviews Michael Rooker, who said his job was to help the audience "understand that Merle's a product of his environment, a product of his rough upbringing, a product of abuse."
• The Winston-Salem (N.C.) Journal reports that Jeryl Prescott Sales, who says The Walking Dead "has opened many doors" for her, was one of the voices of dead characters that Rick heard in Season 3.
• After checking out the Season 4 welcome video from The Walking Dead's cast and crew, MTV observes that "more zombies, higher stakes, grosser gore effects, and plenty of tension" await the survivors.
• Michonne and the Governor's epic Season 3 battle is the subject of a behind-the-scenes clip on the Season 3 DVD and Blu-ray — and you can see it at TV Guide.
• To learn about the creation of Michonne's armless, jawless zombie pets, check out a clip (included in the Season 3 DVD and Blu-ray) at ComicBookMovie.com.
• To stay up-to-date on all the latest news about The Walking Dead, sign up for the weekly Dead Alert newsletter.
Read More