Press
Steven Yeun Chats With IGN; Lennie James Open to The Walking Dead Return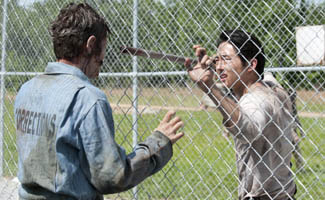 This week, IGN and Access Hollywood have conversations with Steven Yeun, while Lennie James talks to Access Hollywood about possibly playing Morgan again. Plus, Comic Book Resources checks out The Walking Dead actors at Fan Expo Canada. Read on for more:
• IGN interviews Steven Yeun, who says he feels "lucky to play a character who kind of is a wild card. In the sense that he can do anything. There's no limit as to what he can be put through."
• Steven Yeun also talks to Access Hollywood, about celebrating Halloween on The Walking Dead set and why Greg Nicotero is "a wizard."
• Lennie James tells Access Hollywood he'd be up for reprising his role as Morgan since "The Walking Dead family and Andrew Lincoln and everybody down there have been really good to me and good for me."
• Comic Book Resources has an account of The Walking Dead panel — featuring Laurie Holden, Norman Reedus, Steven Yeun and Michael Rooker — at Fan Expo Canada.

• Dallas Roberts tells Examiner.com that The Walking Dead is "an interesting discussion about what it takes to hold a civilization strong and the violence and secrecy at the borders."
• ComicBook.com showcases the sneak peek of The Walking Dead that ran during Low Winter Sun. E! Online laments that "now we have to wait another month and a half to find out what happens."
• Entertainment Tonight features a Season 3 deleted scene from Episode 6, "Hounded" that appears on the Blu-ray/DVD.
• Gotham News reports that a replica of Rick's sheriff's badge is now available for pre-order from Gentle Giant.
• Also available for pre-order is a set of five action figures (Glenn, Maggie, Tyreese, walker Merle and a charred walker) from McFarlane Toys, according to Dread Central.
• To stay up-to-date on all the latest news about The Walking Dead, sign up for the weekly Dead Alert newsletter.
Read More