Press
Robert Kirkman Previews Rick-Carl Dynamic; Zap2it's The Walking Dead Comic-Con Highlights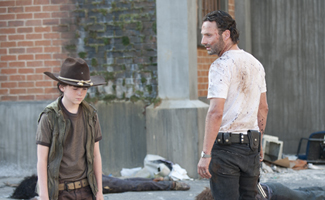 This week, Robert Kirkman discusses Rick and Carl's relationship at the beginning of Season 4, while Zap2it presents its Comic-Con highlights related to The Walking Dead. Plus, Andrew Lincoln and Gale Anne Hurd talk about the upcoming season. Read on for more:
• Robert Kirkman tells Wetpaint that a central focus of Season 4 is Rick "doing a lot of hard work on Carl, and maybe he'll be able to pull him back from the brink, maybe he won't."
• If you couldn't get to Comic-Con, Zap2it lists 10 convention highlights related to all things The Walking Dead.
• At the beginning of Season 4, Rick is "nowhere near what I anticipated and for that reason alone, I was very very happy," says Andrew Lincoln, according to ComicBook.com.
• Gale Anne Hurd reveals Season 4 is "very character driven, but there will be seminal moments of horror," according to Daily Dead.

• Citing shows like The Walking Dead, TheWrap speaks with Breaking Bad's Vince Gilligan about the resurgence of the South as a cable TV filming location and setting.
• David Alpert teases to Newsarama that if the Governor returns to the main group of survivors, "it is going to have a giant impact."
• TVLine showcases a Season 3 deleted scene featuring Melissa McBride's Carol and Michael Rooker's Merle that "sheds startling new light on the deep bond between the survivors."
• TV Fanatic learns from David Morrissey that "people boo me and people shout at me, but they love him [the Governor]. I think they love to hate him." Morrissey also tells Access Hollywood that, at the end of Season 3, "everything just shut down for" the Governor, and "he was just in trauma really. He felt betrayed by the populace."
• Wetpaint learns from Danai Gurira that, in Season 4, "Michonne is really connected to becoming part of a community, but she's also having some trouble with that because she's a loner."
• ComicBook.com gleans some Season 4 tidbits — including "there have been some changes made to the prison and it's a bit more civilized" — from Lauren Cohan, Scott Wilson and Steven Yeun.
• MTV highlights a new collection of 1/6-scale action figure Walkers, with the first few based on Michonne's pets.
• To stay up-to-date on all the latest news about The Walking Dead, sign up for the weekly Dead Alert newsletter.
Read More