Press
EW Talks Michonne on a Horse; Exec Producer Dave Alpert Teases Season 4 Threat to Wetpaint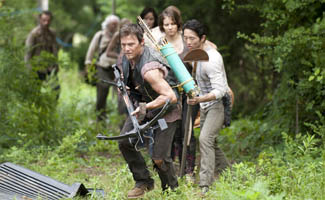 This week, Entertainment Weekly gets the inside scoop on Danai Gurira learning to ride a horse, while Wetpaint tries to get more information on the new Season 4 threat from Dave Alpert, Plus, ComicBookMovie.com speculates which character will be the next one to perish. Read on for more:
• Entertainment Weekly learns from Danai Gurira how she dealt with riding a horse and why she thinks Michonne loves this "fantastic animal."
• Speaking with Wetpaint, Executive Producer Dave Alpert teases that the new Season 4 threat is "going to sort of spiral everything out, sort of spin it all out in a way that, if you thought you had a handle on what the threat was before, you're wrong."
• ComicBookMovie.com tries to figure who's "next on the chopping block" on The Walking Dead.
• The Newnan (Ga.) Times-Herald examines The Walking Dead's positive effect on local businesses in Georgia's Coweta County, where much of the show is shot.

• The (Columbus, Ga.) Ledger-Enquirer heralds The Walking Dead's appearance on Georgia's state travel guide and the show's effect on local tourism.
• One reason why black women will rule on TV this fall is "because Michonne gets to kick ass," according to Essence. [No Link]
• FEARnet features a cosplay piano version of The Walking Dead, calling it a "beautiful ode to a zombie masterpiece."
• Dread Central checks out the Season 3 limited edition fish tank Blu-ray set that "everyone is losing their heads over."
• The Walking Dead's official magazine has just published its fifth issue.
• io9 features the newest iteration of The Walking Dead combined with another show, announcing, "Here's that Walking Dead/Scooby-Doo crossover you've always wanted."
• To stay up-to-date on all the latest news about The Walking Dead, sign up for the weekly Dead Alert newsletter.
Read More