Press
HuffPost Talks Prosthetics With Michael Rooker; Laurie Holden Discusses Andrea's Demise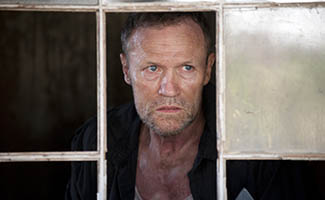 This week, Michael Rooker chats with The Huffington Post, while Laurie Holden talks to Crave Online about Andrea's death. Plus, Gale Anne Hurd discusses some key Season 3 deaths with TV Equals. Read on for more:
• Michael Rooker shares with The Huffington Post that Merle's knife-arm was "hot and sticky and it caused nerve damage and I loved it."
• Laurie Holden tells Crave Online that Andrea's death scene "ripped my guts out emotionally."
• Gale Anne Hurd tells TV Equals, "Losing Sarah Wayne Callies, losing Laurie Holden in one season was about as much as I could personally take without collapsing in a puddle of tears myself." Hurd also talks to Collider.com.
• Producer David Alpert teases to Zap2it that Season 4 will be "bigger, better, meaner."
• As reported by ComicBook.com, Michael Rooker talks about Merle discovering the scars on Daryl's back.
• With San Diego Comic-Con on the way, AMC reveals the Season 4 banner that will be on display at the event. The Huffington Post opines that it "looks really cool." Cinema Blend thinks the characters on it "look like warriors and if the sight of them wielding their weapons against hoards of walkers doesn't get you excited for Season 4, I don't know what will!"
• Deadline reports that The Walking Dead's Comic-Con panel on July 19 will feature Scott Gimple, Andrew Lincoln, Norman Reedus, Steven Yeun, Lauren Cohan, Danai Gurira, David Morrissey, Chad Coleman, Scott Wilson, Gale Anne Hurd, Robert Kirkman, David Alpert and Greg Nicotero.
• ComicBook.com spotlights Gentle Giant's Michonne mini-bust, which will be on sale at San Diego Comic-Con.
• To stay up-to-date on all the latest news about The Walking Dead, sign up for the weekly Dead Alert newsletter.
Read More