Press
EW Covers Celebrate The Walking Dead; Prosthetic Makeup, Story Sync Get Emmy Nods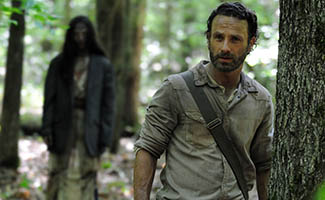 This week, Entertainment Weekly features three covers celebrating The Walking Dead, while the show garners two Emmy nominations. Plus, Robert Kirkman and Scott Gimple talk Season 4 with TV Guide and The Hollywood Reporter. Read on for more:
• Entertainment Weekly has not one, not two, but three covers — featuring Rick, Daryl and Carl — marking the return later this year of The Walking Dead.
• The Academy of Television Arts and Sciences grants The Walking Dead an Emmy nod for Outstanding Prosthetic Makeup. Additionally, AMC.com garnered a nom in the interactive program category for The Walking Dead Story Sync.
• TV Guide previews Season 4 with Scott Gimple and Robert Kirkman, who warns, "We know he's [the Governor] out there, the viewers know he's out there, and there is definitely something brewing on the horizon."
• Scott Gimple tells The Hollywood Reporter his showrunning style will focus on "character-driven stories and really delving into these characters while having some amazing, horrible scares and exciting sequences."
• The Hollywood Reporter interviews Robert Kirkman, who reveals, "Season four probably has the most number of scenes that are adapted directly from the comic series."
• Get your first look at Lawrence Gilliard, Jr. as Bob Stookey, courtesy of Entertainment Weekly.
• The Walking Dead is one of E! Online's can't-miss Comic-Con TV panels. USA Today also calls the panel one of the convention's most-anticipated.
• Speaking of Comic-Con, Robert Kirkman tells the Associated Press that a larger convention "casts a huge spotlight on the comic industry. It only seems to get bigger, and I think that's good for everybody."
• The Walking Dead's Comic-Con booth is "crazy awesome," according to Bloody Disgusting (which also has photos).
• In a Los Angeles Times video chat, David Morrissey characterizes the Governor's mindset as "you're either with me or against me, there's no middle ground."
• Robert Kirkman teases to Entertainment Weekly that, in Season 4, Rick is "definitely going to be pulling back from his leadership position." [No Link]
• Entertainment Weekly checks out a Season 4 photo of Norman Reedus's Daryl and wonders why his face is partially covered.
• Dread Central checks out the videos of Norman Reedus and Lauren Cohan speaking behind the scenes with Kevin Smith.
• Lauren Cohan and Steven Yeun (as Maggie and Glenn) lock lips for Entertainment Weekly.
• Dread Central highlights a photo of an "absolutely terrifying" Season 4 walker. ComicBook.com wonders if the new walkers "might be a little faster than the older walkers."
• There's also a new photo of a Season 4 female walker that prompts ComicBook.com to ask, "Could the walkers be getting leaner, faster, and hungrier?"
• Alabama's AL.com learns five things about Addy Miller, who played the Little Girl Walker killed by Rick in the series pilot.
• USA Today showcases Alex Ross' "pretty great" The Walking Dead Season 4 Comic-Con poster.
• Dread Central reports that a mini-bust of the Governor will be available next year from Gentle Giant.
• Wayne Brady talks to TVLine about getting kicked by Lauren Cohan on The CW's rebooted version of Whose Line Is It Anyway?
• To stay up-to-date on all the latest news about The Walking Dead, sign up for the weekly Dead Alert newsletter.
Read More