Press
E! Online, Zap2it Endorse Andrew Lincoln Emmy Nod; Gale Anne Hurd Previews Season 4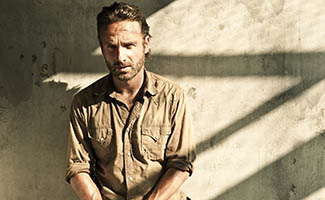 This week, E! Online and Zap2it want some Emmy love for Andrew Lincoln and the San Jose Mercury News supports a nod for Norman Reedus, while Gale Anne Hurd talks to SFX and Kevin Smith about Season 4. Plus, Robert Kirkman does a Star Wars parody. Read on for more:
• Calling his performance as Rick "Emmy gold," E! Online's list of dream best actor Emmy nominees includes Andrew Lincoln.
• Zap2it wants Andrew Lincoln to get an Emmy nod, applauding "his almost weekly master classes in physical acting and the power of communicating critical character information with little or no dialogue at all."
• The San Jose Mercury News includes Norman Reedus — "who dug deep and showed his vulnerable side this season" — on its best supporting actor Emmy wishlist.
• According to ComicBook.com, Gale Anne Hurd tells Kevin Smith, "This season, I think it's fear the living and fear the dead. It's raising the stakes on all levels, across the board, no holds barred."
• Gale Anne Hurd and David Alpert speak with SFX about new characters in Season 4, noting, "If you're a fan of the comic and the show you're going to be pleasantly surprised."
• At ComicBook.com, Robert Kirkman and Chris Hardwick do a Star Wars parody called "Revenge of the Kirkman: Star Wars Course Of The Force Episode 6."
• Female viewers will now have a chance to wear clothing featuring The Walking Dead's iconic characters, phrases and imagery, Variety reports.
• Entertainment Weekly experiences some side-effects from binge-viewing The Walking Dead.
• The Guardian Express compiles a top ten list of quotes from Season 1, Season 2 and Season 3.
• Screen Invasion has a mash-up of The Walking Dead and Star Wars, imagining Jedi Michonne battling a zombie outbreak on Tatooine.
• CarterMatt.com showcases a clip of Lauren Cohan's upcoming appearance on Whose Line Is It Anyway?, where she kicks a zombie Wayne Brady. The Daily Herald says the July 16 premiere will feature two back-to-back episodes with guest performers Cohan and Glee's Kevin McHale.
• To stay up-to-date on all the latest news about The Walking Dead, sign up for the weekly Dead Alert newsletter.
Read More