Uncategorized
Dispatches From the Set – Michael P. Clark, CAS (Production Sound Mixer)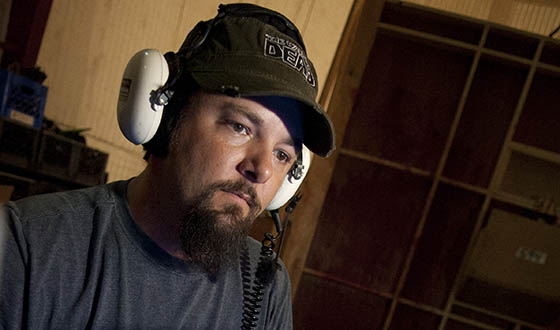 The Walking Dead's production sound mixer Michael P. Clark, CAS talks about what you can hear during the apocalypse and shares an unforeseen challenge from the set this season.
Q: What does the apocalypse sound like?
A: It's dead! [Laughs] There are no planes, no trains, no traffic. It's an interesting sound. And that's something I have to create by eliminating sounds on the day of. We also have post-production for getting rid of any sounds we can't get rid of when we shoot the show. It's nice when you hear some birds or crickets or frogs at the pond in the background. When they stand out during the dialogue tracks, it's actually pleasing. Apparently the zombie apocalypse doesn't affect animals, although I've always thought it would be cool to have birds that dive bomb everybody because they've turned into walkers.
Q: Are there any aural obstacles that you simply can't get around on set?
A: Not really. The post-production team does an amazing job. One of our biggest issues is the generators that have to run for power out on location. And working with the sound levels is always a challenge. I remember my first day on this show was the episode where Rick sees the ghost of Lori for the first time. And it went from a small whisper to complete screaming chaos. We actually mic'ed him with two different mics: one for his whispers and one for his screams. So when we deal with dynamics like that, we can't just adjust on the fly.
Q: What were some particular challenges this season?
A: This season seems to be pretty crazy when it comes to planes, compared to last year. The first two episodes we completed this year, every time we've been outside we've had plane after plane after plane. We're a decent way away from the airport that typically the flight path does not come over — which I believe is one of the reasons they chose to shoot down here — but lately they've been diverting traffic this way. If a plane flies overhead, then we just need to do a different take until we get it clean.
VIDEO: Inside The Walking Dead Season 4 Zombie School
Q: Do characters' outfits ever get in the way of capturing good sound?
A: It's not necessarily the clothing that is difficult, it's the weaponry. Michonne always wears her katana across her chest, and Daryl always wears his crossbow slung across the center of his chest, as well. The center of the chest is our more ideal place for a microphone, so we have to approach the mic in different spots sometimes. We typically hide them behind the clothing. If it's a simple button down shirt, it's behind the buttons for example. When they're exposed, you tend to get wind noise.
Q: Actors speak clearly. But how do you capture the sounds of the walkers on set?
A: Most of that is done in post-production, but when the walkers are on screen in the medium to tight shots, they prefer them to make the actual noises. So we tend to lay these sounds for the zombies, and then in post-production they add all the juicy effects.
Click here to read an interview with The Walking Dead's Executive Producer and Special FX Makeup Designer Greg Nicotero.
Read More