Press
Andrew Lincoln Looks Ahead to Season 4; The Walking Dead Panel Thrills at Comic-Con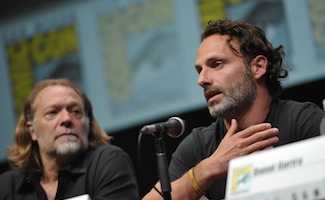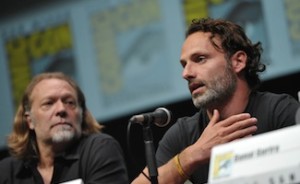 This week, Andrew Lincoln previews the upcoming season, while The Walking Dead garners lots of attention at Comic-Con. Plus, Robert Kirkman, Steven Yeun, Norman Reedus and others talk about the undead drama. Read on for more:
• With Entertainment Weekly, Andrew Lincoln previews Rick's Season 4 conflict of "whether or not he should be a leader at the expense of being a father figure." When the new season opens, Lincoln tells TVLine, "you meet a man who is trying to reclaim or return to the old Rick."
• The Walking Dead's Comic-Con panel reveals the first trailer for Season 4, which will premiere Oct. 13. E! Online calls the trailer "pure, adrenaline-pumping fun." The Hollywood Reporter, The Huffington Post, MTV, TVLine, Variety and Zap2it have rundowns of the panel, while CarterMatt offers its favorite quotes from the event and Hypable details the 10 things it learned.
• The Hollywood Reporter names The Walking Dead's panel one of Comic-Con's winners this year, citing, among other things, the "the fandemonium on display during the world premiere of the season four trailer."
• Chatting with USA Today, Steven Yeun says Glenn's "true evolution is kind of him finding himself. You need these almost terrible instances to bring out your true character."
• Robert Kirkman tells Zap2it that Scott Gimple, "more than any other writer on the show, read comics when he was a kid and was reading The Walking Dead before the show existed."
• Entertainment Weekly interviews Robert Kirkman, who shares, "As we come into the fourth season, things will start going to hell. Now, whether or not that involves the Governor or it involves something else remains to be seen." Kirkman shares more about the Governor with ComicBook.com.
• Robert Kirkman tells Yahoo! TV that The Walking Dead's appeal lies in "telling very human, very grounded stories that everyone can relate to in the most fantastical, entertaining, unrelatable, bizarre way possible."
• Speaking with Entertainment Weekly, Norman Reedus shares that, because of Merle's death, "Daryl has the opportunity to become the man he was never going to be." Reedus also dishes about Daryl and Carol to Access Hollywood.
• Chandler Riggs talks to Entertainment Weekly about Carl's state of mind as the new season starts.
• Collider.com talks to Norman Reedus and Greg Nicotero, who describes the newest threat to the group as "a metamorphosis of what we've come to learn in the last three seasons."
• ComicBook.com sits down with Greg Nicotero, Norman Reedus and Danai Gurira to get some Season 4 intel on walker babies and other matters.
• Greg Nicotero talks to ComicBook.com about the walkers he's inserted into the show as tributes to George Romero's Dawn of the Dead and other films.
• Previewing the Governor's Season 4 struggle, David Morrissey tells io9 that "it's about which guy is going to win, the good guy or the bad guy that's inside him. It's that internal battle."
• Steven Yeun participated in Entertainment Weekly's Brave New Warriors panel at Comic-Con — and EW was there, as well as Digital Spy, POPSUGAR and VH1.
• According to The Celebrity Cafe, Danai Gurira was a member of a Comic-Con panel titled "Women Who Kick Ass."
• Deadline reports that Noah Emmerich is "still shocked" that he gets so much recognition for his two-episode stint on The Walking Dead.
• According to the Los Angeles Times, Robert Kirkman says Daryl is unlikely to show up in the comic book because "I like the fact there are certain characters you can only do in different mediums" — although Tony Moore, formerly an artist for The Walking Dead, tweeted his vision of Daryl as a comic book character.
• Digital Spy reports that David Goyer, who wrote Man of Steel, will direct a Season 4 episode.
• The Los Angeles Times argues that The Walking Dead — "smartly written, beautifully acted and gorgeously shot" — should have gotten a best drama Emmy nod.
• Dread Central takes a look at the new action figures (based on the TV show) that will be available in September.
• Gale Anne Hurd donated $5 million to the Academy of Motion Picture Arts and Sciences' museum project, according to the Los Angeles Times.
• Screen Daily reports that Gale Anne Hurd will be honored at the Deauville American Festival, which starts next month.
• Wired reports that Steven Yeun will have a guest role on Nickelodeon's animated series, Legend of Korra, with the episodes airing later this year.
• To stay up-to-date on all the latest news about The Walking Dead, sign up for the weekly Dead Alert newsletter.
Read More