Press
Variety Cites The Walking Dead As Emmy-Worthy; Andrew Lincoln Chats With L.A. Times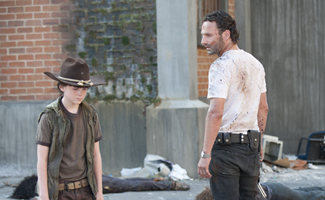 This week, The Walking Dead is one of Variety's possible contenders for a best drama Emmy, while Andrew Lincoln does an interview with the Los Angeles Times. Plus, Robert Kirkman talks about why zombies are popular now. Read on for more:
• Variety includes The Walking Dead in its rundown of best drama Emmy contenders and asserts that Season 3 "of the hugely popular cable drama provided plenty of riveting moments." (No Link.)
• The Los Angeles Times profiles Andrew Lincoln, noting that the scene where he collapses upon hearing of Lori's death "immediately sparked serious talk of an Emmy nomination."
• Andrew Lincoln tells a Los Angeles Times Emmy roundtable that the story of Morgan and his son in the series pilot was "such a bold and brave and unique way of telling this story."
• Speaking to The Walking Dead's success, Robert Kirkman tells CNN's George Stroumboulopoulos that "historically zombie stuff has always been popular at times of great social unrest."
• According to The Hollywood Reporter, Gale Anne Hurd and Executive Producer David Alpert, at a panel last weekend, reflected on the early challenges of getting The Walking Dead on TV. Deadline also has an account of the panel, including Hurd's comment that "we haven't received one censorship note — ever" from AMC.
• Scott Gimple — complimented by Gale Anne Hurd for his ability to "'inhabit' the complex characters and highlight their moral dilemmas" — is one of Variety's ten TV scribes to watch. (No Link.)
• One of Variety's big moments during the 2012-2013 TV season was Carl putting down Lori after she gave birth so that she wouldn't turn into a zombie (in Season 3, Episode 4, "Killer Within"). (No Link.)
• Variety includes Lennie James in its list of notable TV guest stars, observing that "his impact on the tone of the series and its main character is undeniable," even though he's only appeared in two episodes.
• Entertainment Weekly's InsideTV Podcast features the SiriusXM channel interview with Norman Reedus, who says, "They've introduced a way to make the zombies scary again. They're terrifying. The new threat is just unreal."
• The Los Angeles Times thinks David Morrissey should be considered for an Emmy nod because he "fulfilled everyone's expectations and then some, bringing a moving complexity to one of the year's best villains."
• CarterMatt.com wants a best supporting actor Emmy nod for David Morrissey because he made the Governor "terrifying through and through."
• ComicBook.com reports that The Walking Dead won two Spike TV Guys Choice Awards: Danai Gurira in the Jean-Claude Gahd Dam category and the Dixon Brothers in the Brotherly Love category.
• Digital Spy calls Season 3's "Killer Within" the "pinnacle of Walking Dead brutality" because it featured T-Dog's death, Carl putting Lori down with a gunshot and Rick's collapse at the end.
• Wetpaint offers its list of characters who are not allowed to die during Season 4.
• CBS News, Deadline, Digital Spy, Entertainment Weekly, IGN, Indiewire, the New York Daily News and TV Fanatic all report on The Walking Dead's Television Critics Association award nomination.
• Access Hollywood, Bloody Disgusting, Cinema Blend, Collider.com, FEARnet, The Huffington Post and The Hollywood Reporter check out a Season 4 video preview from Greg Nicotero, who's directing the season premiere.
• ComicBook.com's review of Hello Herman applauds Norman Reedus, who "shows his range and capabilities as an actor by engulfing himself in the role of Lax Morales, and convincingly so."
• To stay up-to-date on all the latest news about The Walking Dead, sign up for the weekly Dead Alert newsletter.
Read More