Press
The Walking Dead Is TV's Top-Rated Show; Variety Deems Andrew Lincoln Emmy-Worthy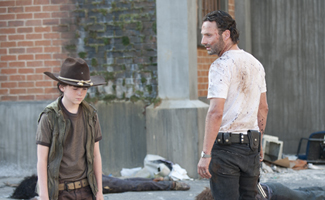 This week, it's revealed that The Walking Dead was the top-rated scripted show of the entire TV season, while Andrew Lincoln is named a possible Emmy nominee by Variety. Plus, Robert Kirkman speaks with the Los Angeles Times about killing main characters. Read on for more:
• TheWrap reports that The Walking Dead was the top-rated scripted show of the 2012-2013 TV season, a first for a cable program.
• Variety considers Andrew Lincoln to be a leading Emmy contender since Rick was " further tested this year by games his mind was playing upon him."
• Robert Kirkman talks to the Los Angeles Times about the difficulty of killing off characters: "There's a tremendous amount of regret involved any time you kill someone off."
• The Los Angeles Times catches up with David Morrissey, who says he always thought Penny was the Governor's "touchstone to humanity." ComicBook.com focuses on the part of the chat where Morrissey talks about the relationship between the Governor and Rick.
• Steven Yeun joins The Hollywood Reporter's gathering of top contenders for best supporting actor and actress nominations.
• David Morrissey previews Season 4 with GoldDerby, suggesting, "With all the characters in season four, it's about how the events of season three has changed them."
• ComicBook.com reports on Norman Reedus's conversation with Sirius XM radio, where the actor calls the Season 4 scripts "amazing" and shares that it "feels like we've shot about three movies already."
• According to Bloody Disgusting, the Season 3 DVD/Blu-ray will be released on Aug. 27, with a limited edition Blu-ray also available in a zombie head tank package.
• TV Guide learns that Josh Holloway of ABC's Lost is now a zombie fan after "a marathon viewing of The Walking Dead."
• ComicBook.com has a video of Michael Rooker's recent panel at Phoenix Comicon. His reaction to Daryl crying when Merle died? "That little crybaby, he's been a crybaby all his life. About time he really cried for something."
• Meanwhile, Norman Reedus visits Philly Comic Con and lauds the quality of the Season 4 scripts, according to ComicBook.com.
• Bleeding Cool gets the behind-the-scenes scoop on The Walking Dead from a Denver Comic Con panel featuring Assistant Director Vincent Gonzales and Michael Koske, a "perennial 'walker' shambler."
• Best Movies Ever speaks with Michelle Danner about casting Norman Reedus in her new film, Hello Herman, saying he "brought himself in the deepest way into the process of telling the story." Go to Digital Journal to see Reedus in a trailer for the movie.
• FOX 5 Atlanta reports on bus tours of The Walking Dead's filming sites in the Atlanta area.
• To stay up-to-date on all the latest news about The Walking Dead, sign up for the weekly Dead Alert newsletter.
Read More