Press
Robert Kirkman Chats with CNN; St. Louis Post-Dispatch Shocked By Carl Shooting Lori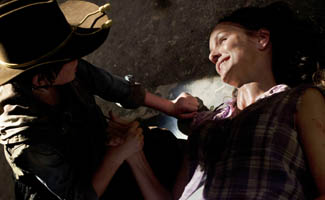 This week, CNN interviews Robert Kirkman, while Carl's mercy killing of his mother still shocks the St. Louis Post-Dispatch. Plus, two walker deaths appear on New York's list of the grisliest on TV this year. Read on for more:
• Robert Kirkman tells CNN's George Stroumboulopoulos that he didn't tell his parents he had quit his job and was writing comic books until he started making money — and puts in a plug for his former employer, Kentucky Lighting & Supply.
• One of TV's most shocking moments this year, according to the St. Louis Post-Dispatch, was when "Carl became a hero" after killing Lori so she wouldn't rise again as a zombie.
• New York's grisliest TV deaths of 2013 includes Rick with a walker and Daryl crushing the head of a walker.
• The San Jose Mercury News checks out TV adaptations that don't always follow the books they were based on, à la The Walking Dead.
• Jerry Ross talks to Deadline about the challenges of sound editing for The Walking Dead, including the need to "exorcise any kind of civilized sounds."
• The Stir lists a dozen reasons why Norman Reedus — "a little dirty, a little rough-looking, and so sexy it's downright ridiculous" — is the hottest guy on TV.
• The San Jose Mercury News considers The Walking Dead ("highly entertaining yet deeply disturbing") one of the best zombie apocalypses ever.
• The Global Dispatch interviews Nick Gomez (Tomas), who calls his time on The Walking Dead "one of my favorites!"
• According to ComicBook.com, a 10-inch deluxe action figure of Norman Reedus' Daryl will be available in November from McFarlane Toys. FEARnet is hawking a Rick Grimes replica badge set — which won't be available until the first quarter of 2014.
• IGN shares some additional details of the Season 3 Blu-ray.
• CarterMatt.com spotlights a promo for the CW's Whose Line Is It Anyway? that features Lauren Cohan, who will guest-star on the game show.
• To stay up-to-date on all the latest news about The Walking Dead, sign up for the weekly Dead Alert newsletter.
Read More