Press
LA Times Wants Emmy Nod for Andrew Lincoln; NY Post on The Walking Dead's Influence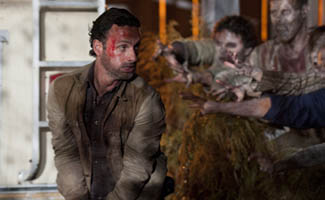 This week, the Los Angeles Times pushes for an Emmy nomination for Andrew Lincoln, while the New York Post discusses how The Walking Dead has influenced the broadcast networks. Plus, the drama's pilot is considered one of the all-time best by Complex. Read on for more:
• The Los Angeles Times recommends that the Emmys recognize Andrew Lincoln: "This season, he finally cracked and, whew, did you feel the grief and fatigue pouring out of him."
• The New York Post uses The Walking Dead as an example for why broadcast networks are exploring shortened and divided seasons, a move that enables AMC to "tout each return as a big event."
• Complex names The Walking Dead to its list of the 50 best TV pilots of all time, calling the first episode "one of the best pieces of visual zombie fiction ever made."
• The Hollywood Reporter, the Los Angeles Times, CBS News, E! Online and Deadline report that The Walking Dead landed a Critics' Choice Television Awards nomination for Andrew Lincoln as best actor in a drama series. ComicBook.com applauds Lincoln's inclusion in the nominees.
• The Hollywood Reporter quotes AMC Networks Chief Executive Josh Sapan on The Walking Dead continuing for a long time: "We hope that zombies live forever and we've just begun to find out what the post-apocalyptic world is like."
• According to the Los Angeles Times, USA has placed a series order for Horizon, a World War II drama produced by Gale Anne Hurd.
• Houston's CultureMap highlights "The Walking Dead Survival Cooking Blog," started by a woman who "could not stand not seeing how the Atlanta survivors made it without eating at least a little something."
• Mania reports that an "engaging and gracious" Norman Reedus was a huge draw at Michigan's Motor City Comic Con.
• Best Movies Ever has Norman Reedus behind the scenes talking about why he wanted to be part of Hello Herman, his new film coming out next month.
• FEARnet spotlights "a creepy new creation": a life-size animatronic statue of the "Teddy Bear Girl" from The Walking Dead series premiere.
• To stay up-to-date on all the latest news about The Walking Dead, sign up for the weekly Dead Alert newsletter.
Read More