Press
Larry Gilliard, Jr. Joins Season 4; Steven Yeun Books Role in New Movie I Origins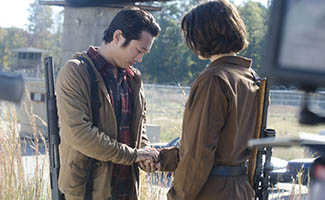 This week, Larry Gilliard Jr. wins the part of Bob Stookey in Season 4 of The Walking Dead, while Steven Yeun is cast in a film to be directed by Mike Cahill. Plus, Michael Rooker talks about how easy it was to work with Norman Reedus. Read on for more:
• Larry Gilliard, Jr. has joined the Season 4 cast, playing Bob Stookey, "a former Army medic who is deeply haunted by his past — both before and after the apocalypse," according to The Hollywood Reporter.
• Deadline reports that Steven Yeun has won a role in Mike Cahill's new movie I Origins.
• Michael Rooker speaks with Conversations LIVE about getting along so well with Norman Reedus that the actors really felt like brothers, saying, "We just hit it off you know on the set, and we just kept on doing it."
• Steven Yeun gives his impression of Season 3 to Wetpaint, observing, "It was no-holds-barred, kind of like Volume 11. It was really great, and we got to tell some amazing stories and kind of ramp up the energy."
• According to the BBC, David Morrissey has been cast in a BBC drama called The 7.39.
• Norman Reedus gets his picture taken during the Tribeca Film Festival, and the photographer tells The Huffington Post the actor is "such a friendly, affable guy, very laid back."
• The Huffington Post credits The Walking Dead for helping to grow Georgia's TV and film industry.
• CarterMatt speculates how the Governor may re-assert himself.
• Minnesota Public Radio discusses how The Walking Dead has been one of the few American shows or movies — "perhaps only" — to feature an Asian male in a sex scene.
• TV Shows on DVD reports that The Walking Dead Season 2 won a 2013 Home Media Magazine award in the "TV on Disc of the Year" category.
• Lost Remote talks to the agency that used social media to launch The Walking Dead in France.
• Dread Central highlights behind-the-scenes Season 3 photos.
• The Huffington Post offers a look at a The Walking Dead-themed "blood-and-guts" wedding cake.
• Nerd Approved spotlights The Walking Dead plush figures of Rick, Daryl, Bicycle Girl and another zombie, describing them as "cute and gross all at the same time."
• To stay up-to-date on all the latest news about The Walking Dead, sign up for the weekly Dead Alert newsletter.
Read More