Press
Greg Nicotero Teaches Zombie Walking; Paste on Lori Grimes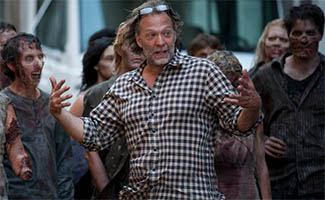 This week, Greg Nicotero instructs Bloomberg Businessweek in the art of zombie walking, while Lori's demise is one of Paste's most shocking deaths. Plus, Indiewire thinks The Walking Dead could have a chance at an Emmy nod. Read on for more:
• Greg Nicotero tells Bloomberg Businessweek how to walk like a zombie, advising, "Imagine that you walked out of a bar at 2:00 in the morning."
• The Walking Dead is No. 7 on Paste's list of TV's most shocking deaths because of the "harsh circumstances" of Lori's demise.
• Indiewire thinks The Walking Dead has a chance at getting a best drama series Emmy nomination.
• Wired has a team of psychiatrists and lawyers address "the legal and medical questions raised by the many extreme situations" on The Walking Dead.
• Houston's News 92 FM calls The Walking Dead "not only the greatest show on TV right now, it's the greatest show to ever hit the small screen since its invention!"
• According to ComicBook.com, Norman Reedus tells The Walking Dead Magazine about a Season 2 scene that was never filmed.
• Emily Kinney speaks with The Norfolk (Neb.) Daily News about learning on the set from her fellow actors: "It sets the bar really high, and it makes me a better artist and actor."
• Wetpaint highlights AMC's poll asking viewers to choose their favorite Season 3 episode.
• While promoting his autobiography, IronE Singleton tells the Oklahoma Gazette that The Walking Dead taught him about the ability of "different cultures coming together to survive." Singleton visits Oklahoma City's KATT and shares that he keeps in touch with his former castmates: "Once Walking Dead, always Walking Dead. We'll always be family."
• CultureMob interviews IronE Singleton, who marvels, "It seems like overnight 'T-Dog' has become a household name. It's amazing how many people know about him."
• The Walking Dead's Season 2 episode, "Pretty Much Dead Already," wins a Rondo Hatton Classic Horror Award in the Best TV Presentation category.
• According to io9, The Walking Dead Season 3 Blu-ray will be packaged in a replica of "one of the Governor's many, many severed head-filled aquariums."
• Dread Central reports that a mini bust of Daryl is available for pre-order from Gentle Giant, while a "drool-worthy" t-shirt depicting Daryl can be ordered at Rotten Cotton.
• McFarlane Toys is selling a black-and-white three-pack of Michonne and two leashed "pets," according to Comic Book Resources.
• To stay up-to-date on all the latest news about The Walking Dead, sign up for the weekly Dead Alert newsletter.
Read More