Press
Gale Anne Hurd Talks the Governor's Survival With IGN; Norman Reedus Previews Season 4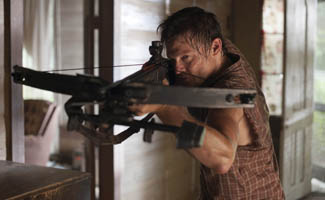 This week, Gale Anne Hurd speaks with IGN about the Governor's continued survival, while Norman Reedus discusses Season 4 with Hollywood Life. Plus, Ad Age explains why The Walking Dead is so popular in China. Read on for more:
• IGN interviews Gale Anne Hurd, who talks about why the Governor is still alive: "there's more to be done with not only the character, but with the conflict that we get to see, the difference in leadership between the Governor and Rick."
• Norman Reedus tells Hollywood Life that the Season 3 Finale was "about who is becoming what in that world. Carl, what he has become, Rick what he has become, what Daryl has become."
• Ad Age discusses the popularity of American TV shows in China, where The Walking Dead is able to attract "well-educated professionals in tier-one cities."

• People magazine spotlights Danai Gurira as the "Beauty of the Week" in its April 22 issue (right), on stands next Friday. (No Link)
• South Africa's Independent Online chats with Danai Gurira, who speaks of The Walking Dead's attraction: "it was a character study and as a playwright, that spoke to me and I wanted it."
• Emily Kinney talks to the Lincoln (Neb.) Journal Star about being promoted to a series regular. Kinney also tells the paper that Norman Reedus is "super nice, sweet and fun."
• For some photos of Norman Reedus, go to TooFab for a gallery of images from photographer Terry Richardson.
• USA Today spotlights Andy Richter's tour of Atlanta while made up as a zombie.
• TV Overmind lists its top 10 Season 3 scenes, observing, "not an easy task, because there were quite a few to choose from."
• NPR wonders if The Walking Dead's ratings success indicates a coming convergence between scripted shows on basic cable and broadcast.
• The Globe and Mail says top cable shows like The Walking Dead are "transforming TV — reinvigorating the experience of appointment television even as they drive more and more viewers to piracy."
• Ad Age notes that the rise of cable hits like The Walking Dead is more challenging for advertisers, since the "value of buying into a broadcast network has changed."
• ComicBook.com discusses why it makes sense for the prison group to take in the citizens of Woodbury.
• BehindTheThrills.com reports that Greg Nicotero and his KNB EFX Group will help organize a The Walking Dead Escape event for Philadelphia later this month.
• ComicBook.com, which still hopes "through some wild conspiracy theory" that Merle is alive, wishes Michael Rooker a happy birthday.
• The Huffington Post points out that Andrew Lincoln (and Mad Men's January Jones) are two of several Love Actually cast members who "made it big" after the movie came out in 2003.
• To stay up-to-date on all the latest news about The Walking Dead, sign up for the weekly Dead Alert newsletter.
Read More