Press
AMC'S The Walking Dead Finale Delivers Largest Audience in Series History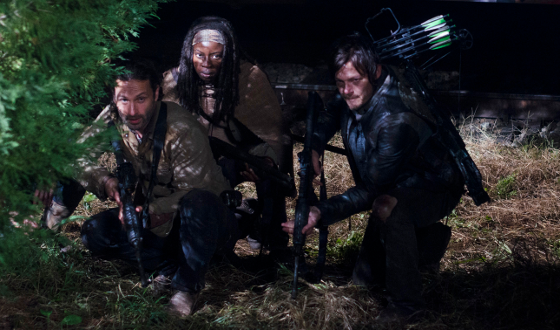 Last night, AMC's Season 3 Finale of The Walking Dead premiered at9/8c, delivering its largest audience ever with 12.4 million viewers and 8.1 million adults 18-49, making the series the number one program for the night and the week for total viewers and in the demo. The series' season average is also number one for the broadcast season for adults 18-49 for all of television outdelivering everything including The Big Bang Theory, The Voice, Game of Thrones, Modern Family, and almost doubling The BibleM. With Live plus 3, The Walking Dead typically, adds, at least an additional 3 million viewers.
"Two words: Grateful. Dead. It's a joy that we get to work with such tremendous talent to make The Walking Dead and Talking Dead come to life for audiences that continue to engage and grow," said Charlie Collier, AMC's president. "In just three seasons, The Walking Dead has become a pop-culture phenomenon, entertaining millions of passionate viewers and obliterating traditional lines between cable and broadcast television."
Following the 9/8c premiere of The Walking Dead, AMC premiered the finale of Talking Dead at 10/9c to the most watched episode in series history with 5.2 million viewers tuning in to the live show. The audience of Talking Dead out delivered HBO's premiere of Game of Thrones for the night. Hosted by Chris Hardwick, Talking Dead features Hardwick and fans, actors, producers and other TV enthusiasts, discussing and dissecting that night's Dead premiere. The series expanded to a full hour with the final 8 episodes of Season 3. The finale episode featured guests including Norman Reedus, Chad L. Coleman and Yvette Nicole Brown.
On Sunday, social media for the season finale of The Walking Dead ranked 1st among all television programs for the day. Talking Dead ranked 8th among all television and 5th among just cable programs on Sunday.
Read More