Press
Laurie Holden on Andrea's Final Moments; Steven Yeun, Michael Rooker Invade Conan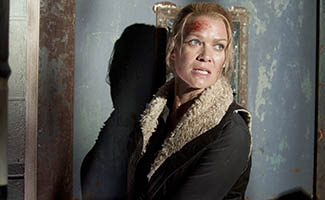 This week, Laurie Holden and Dallas Roberts discuss Andrea and Milton's final moments, while Steven Yeun visits Conan O'Brien the night after Michael Rooker and Melissa McBride invade the talk show. Plus, Robert Kirkman, Gale Anne Hurd and Norman Reedus preview Season 4. Read on for more:
• Laurie Holden talks about Andrea's death with TVLine: "I'd like to think Andrea's death will have meaning." Holden tells The Hollywood Reporter that Andrea's final moment was "perfect, organic and true to the character. It couldn't have been penned more beautifully."
• TV Guide is shocked by Andrea's death because The Walking Dead has killed off "a character who is still alive in the comics more than 100 issues in."
• Dallas Roberts discusses with The Hollywood Reporter the Governor's plan to have zombie Milton kill Andrea: "That's right in the Governor's wheelhouse of being such a cruel psychopath." Roberts talks more death with New York, Entertainment Weekly and CNN.
• Steven Yeun visits with Conan O'Brien, who gives two tickets to the actor to the University of Michigan/Syracuse University final four men's basketball game. Yeun also recommends an Atlanta strip club featuring "mostly older beautiful ladies."
• Michael Rooker and Melissa McBride storm Conan O'Brien's show, seeking refuge from walkers. The Huffington Post, the Los Angeles Times, Atlanta magazine and Wetpaint showcase the invasion.
• Robert Kirkman gives his final Season 3 post-mortem to The Hollywood Reporter, calling Andrea's demise "something that changes Rick's mindset and alters a lot of the characters and their modes of operation moving into the fourth season." Kirkman also talks to TV Guide, Entertainment Weekly, TVLine and IGN.
• The Los Angeles Times previews Season 4 with Gale Anne Hurd, who says, "The world is certainly no safer. In fact it becomes a lot more complicated in the upcoming season."
• Norman Reedus tells The Wall Street Journal, "I think season four is going to be our best season, I really do."
• The Wall Street Journal raves, "This was the season that The Walking Dead finally lived up to its promise. Its bloody, gory, terrifying promise."
• TV Guide reports that Chad L. Coleman, Sonequa Martin-Green and Emily Kinney will be series regulars in Season 4.
• The Season 3 Finale's blockbuster ratings "capped a season in which The Walking Dead had become a ratings sensation, regularly finishing as the top show in television in the 18-to-49 age demographic coveted by advertisers," says The New York Times.
• TheWrap thinks "Sunday night could represent the future of television: Cable gaining viewers as networks offer aging reality shows and underwhelming scripted ones."
• Entertainment Weekly spotlights AMC's Season 4 preview video and wonders what will happen to the Governor and Carl.
• According to The Hollywood Reporter, David Morrissey will reprise his role as the Governor in Season 4.
• TVLine honors Norman Reedus as a performer of the week for Daryl's reaction to Merle's death in "This Sorrowful Life."
• Lauren Cohan waxes poetic about the South to Tampa Bay Times, observing, "There's something old-fashioned about the South; it calls to your spirit."
• TVLine offers the 15 most memorable moments of the last season. Meanwhile, Michigan Live lists its top moments from Season 3 and offers some Season 4 predictions.
• Entertainment Weekly highlights the use of Motörhead's "Fast and Loose" in "This Sorrowful Life," citing its "apt title and pivotal domino-setting use as Merle slugged whiskey in his car and waited for walkers."
• Extra poses some "burning" questions for Season 4, including, "Where is the Governor?"
• Wetpaint asks, "Is Carl a scary future dictator, or does he have the right idea when it comes to handling life in the zombie apocalypse?"
• Reuters reports that Georgia's Senoia is a tourist hub, thanks to The Walking Dead's ratings success. Meanwhile, the Tampa Bay Times takes a "rogue do-it-yourself tour" of the town's The Walking Dead locales.
• Uproxx offers the best zombie kill GIFs from an "outstanding" Season 3.
• CableFax asks why there are so many British actors, such as Andrew Lincoln, playing Americans on U.S. TV.
• PolicyMic says The Walking Dead's appeal lies in its people: a "broken, struggling, unlikely band of brothers and sisters trying to do what's best by them in a world gone to hell."
• Word and Film examines how The Walking Dead has "woven Western iconography into its zombie-fied landscape."
• USA Today checks out a pianistic version of The Walking Dead theme song, complete with zombies.
• The Houston Chronicle offers a gallery of what The Walking Dead stars "look like when not sweaty-looking and whacking zombies."
• Check out ComicBook.com for an Iron Man: Rise of Technovore trailer, which features the voice of Norman Reedus.
• For recaps and reviews of Season 3, Episode 16, "Welcome to the Tombs," check out Atlanta Journal Constitution, The Baltimore Sun, CNN, Dread Central, E! Online, FoxNews.com, The Hollywood Reporter, MTV, Paste, The Sydney Morning Herald, TV Fanatic, TV Guide, TVLine and Zap2it.
• To stay up-to-date on all the latest news about The Walking Dead, sign up for the weekly Dead Alert newsletter.
Read More