AMC and Cryptozoic Entertainment Announce The Walking Dead Card Game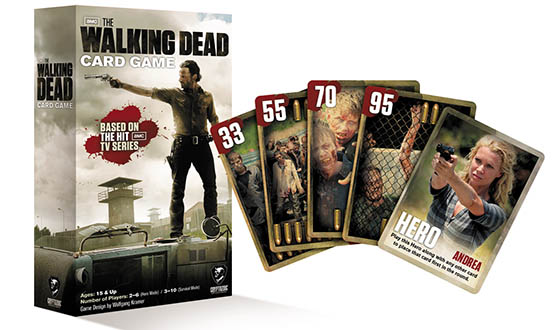 Cryptozoic Entertainment and AMC expand their partnership with the announcement of The Walking Dead Card Game, coming in early 2013. Created by award-winning game designer Wolfgang Kramer, The Walking Dead Card Game pits humans against zombies in a test of bravery and dominance.
Based on the game 6 Nimmt!, The Walking Dead Card Game is a ten- to thirty-minute game for two to ten players. Each player attempts to collect points by defeating as many zombies as possible. The player with the most points at the end of the game emerges victorious. The designer, Wolfgang Kramer, has won numerous accolades, including the Spiel des Jahres, a prestigious, German card and game award.
"Our The Walking Dead Board Game is so popular, we literally can't keep it in stock," said Cryptozoic chief operating officer Scott Gaeta. "We're excited to work with Wolfgang to create a card game that even the most casual of The Walking Dead fans can enjoy and that more experienced players will spend many hours trying to master."
For more information, about The Walking Dead Card Game, go to Cryptozoic.om.
Read More