Press
Michael Rooker, Norman Reedus Talk Merle's Death; TWD No. 1 in THR Power Rankings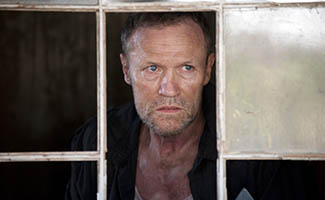 This week, Michael Rooker and Norman Reedus talk about Merle's death, while The Walking Dead is No. 1 in the newest edition of The Hollywood Reporter's Power Rankings. Plus, Gale Anne Hurd offers a look ahead at Season 4 and the Season 3 finale. Read on for more:
• Entertainment Weekly discusses Merle's death and undeath with Michael Rooker, who says he did not enjoy playing a zombie: "Dude, all I can say is, I'm glad a dead zombie now, because I wouldn't want to do that everyday. Trust me. No, not a fun time."
• In a Q&A with TV Guide, Michael Rooker talks about why he thinks Merle went after the Governor alone.
• Norman Reedus speaks with Entertainment Weekly about Merle's death, including Daryl's reaction: "I just wanted to be crushed in a way you see my heart break."
• In The Hollywood Reporter, Norman Reedus warns that Daryl "wants a ferocious revenge, he doesn't just want to see justice — he wants to rip his [the Governor's] head off."
• The Walking Dead tops The Hollywood Reporter's power rankings: "This series just gets better every season — sometimes every episode."
• Gale Anne Hurd previews Season 4 and the rest of Season 3 to Zap2it, describing the final episodes of this season as "intense and shocking." Shock Till You Drop interviews Hurd about deaths on the show.
• On CNBC, Robert Kirkman makes a connection between the popularity of zombies and the world's economic uncertainty.
• Andrew Lincoln tells E! Online that, in the Season 3 finale, "Something happens that I find incredibly shocking that relates directly to my character and the prison family."
• TV Guide spotlights Laurie Holden, who warns, "It's a heartbreaking end for everyone." (No Link.) Holden also tells Us, "There are no happy endings. We all have a shelf life. We're all expendable." (No Link.)
• Melissa McBride talks to Access Hollywood about Carol's state of mind: "She loves her Team Prison. She loves them and she's gonna fight. It's the only thing she has left, you know?"
• Larry King interviews Laurie Holden and David Morrissey about their lack of job security.
• David Morrissey tells the New York Daily News how "the real joy is for me that we film it [The Walking Dead] in Atlanta in the South. So I am surrounded by the accent, as all the crew are from there." Morrissey also chats with Access Hollywood and Los Angeles' KTLA.
• Zimbabwe's The Standard interviews Danai Gurira, who discusses the challenge of acting in The Walking Dead.
• The Tampa Bay Times speaks with Lauren Cohan about Merle's death: "It's a shame because we'd all just begun to love the character and understand where he is coming from."
• toofab highlights the "glammed up" women of The Walking Dead — Laurie Holden, Lauren Cohan and Danai Gurira — in Emmy Magazine.
• Business Insider takes a look at the technique behind Merle's "totally awesome shootout."
• Allure talks to Greg Nicotero about the show's zombie makeup secrets, including "four bottles of conditioner, ten gallons of 'blood,' and an assembly line of makeup artists."
• Business Insider learns 13 things from Producer David Alpert about what to expect as the season winds down.
• The Orange County Register examines why The Walking Dead is such a ratings success. One reason: it's "exceptionally good." (No Link.)
• The Orlando Sentinel reports that The Walking Dead was the 18-to-49 age group's top show last week — and was also the top-rated show overall on cable.
• The Los Angeles Times looks back at some of the people who have already lost their lives on The Walking Dead and speculates about five others "who might be in grave danger." Meanwhile, the Orlando Sentinel and the Boston Herald wonder who will die next.
• Dread Central highlights AMC's promo for The Walking Dead's season finale and Mad Men's season premiere.
• The Orange County Register advises watching The Walking Dead's season finale: "The hottest show on cable closes out the season in what promises to be spectacular fashion." (No Link.)
• ComicBook.com offers up the best Merle quotes from last week's episode.
• Uproxx checks out the many plot similarities between The Walking Dead and the Toy Story movies.
• St. Paul Pioneer Press spotlights eight foreign actors masquerading on TV as Americans, including Andrew Lincoln and David Morrissey.
• While looking into ad sales for the cable vs. broadcast networks, Variety notes that The Walking Dead is "as big as anything on broadcast among young adults."
• According to The Hollywood Reporter, Robert Kirkman and Michael Rooker will be Chris Hardwick's guests on BBC America's The Nerdist on April 6.
• Entertainment Weekly's TV Jukebox includes Voxhaul Broadcast's "You Are the Wilderness" from "Prey," noting, "Voxhaul's David Dennis's yowl conveyed the terror in Andrea's heart that her covered mouth couldn't speak but her eyes betrayed."
• Multichannel News cites research that shows "an incredible level of engagement" from The Walking Dead viewers, with social conversation happening during commercials or after the show.
• Deadline and Indiewire highlight AMC's trailer for Low Winter Sun, a drama airing this summer that co-stars Lennie James (who plays Morgan on The Walking Dead).
• For recaps and reviews of Season 3, Episode 15, "This Sorrowful Life," check out Atlanta Journal Constitution, The Baltimore Sun, CNN, Comic Book Resources, Crave Online, Entertainment Weekly, E! Online, Forbes, The Hollywood Reporter, IGN, The Mary Sue, Rolling Stone, Slate, Time, TV Fanatic, TV Guide, TVLine, The Wall Street Journal and Zap2it.
• To stay up-to-date on all the latest news about The Walking Dead, sign up for the weekly Dead Alert newsletter.
Read More