Press
Steven Yeun Chats With Jimmy Kimmel; Robert Kirkman Talks Episode 14 with EW, THR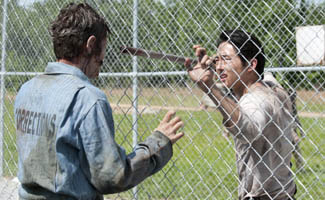 This week, Steven Yeun chats with Jimmy Kimmel on Jimmy Kimmel Live, while Robert Kirkman talks about "Prey" with Entertainment Weekly and The Hollywood Reporter. Plus, The New York Times is impressed by The Walking Dead's "extraordinary" ratings. Read on for more:
• A sockless Steven Yeun visits Jimmy Kimmel Live, talking about his parents' disappointment with his career choice and a fan encounter Yeun experienced during a colonscopy. ComicBook.com has a summary of the interview.
• Robert Kirkman discusses the episode "Prey" with Entertainment Weekly, The Hollywood Reporter and IGN, warning, "We are seeing a new darkness emerging in the Governor."
• The New York Times uses The Walking Dead — which "has drawn extraordinary ratings over three seasons" — as an example of the zombies taking over.
• Andrew Lincoln talks to World Screen about Rick's breaking point: "Losing his wife has seriously pushed him into a place that he's never been before. It's a very terrifying place and I'm not sure he's out of it yet."
• Digital Spy interviews Norman Reedus about Daryl's self-esteem: "I think having those people rely on him and having this new sense of self-worth is the glue that's keeping him still around."
• Indiewire reports that, earlier this week, Danai Gurira won the Los Angeles Drama Critics Circle Writing Award for her recent play, The Convert, calling her "a prodigious playwright, with award-winning credits to her name."
• David Morrissey tells MTV that the Governor is "just after revenge now. It's a very dark place, and a very brutalized place, but having one objective is a central place for a human being."
• According to Examiner.com, TV Guide has named the Governor one of the nastiest TV villains of all time.
• Michael Rooker shares his approach to playing Merle with Access Hollywood: "The more questions you have in regards to my motivations and all this kind of stuff, the better I like it."
• Steven Yeun theorizes to Access Hollywood that women are tuning in to The Walking Dead to see Norman Reedus or Andrew Lincoln.
• Dallas Roberts tells New York that David Morrissey is "hilarious between takes. He's a cutup and a prankster."
• TV Guide wonders whether Andrea or Milton will die by the end of Season 3.
• ComicBook.com handicaps each character's odds of dying in the Season 3 finale.
• Multichannel News cites Danai Gurira's Michonne as an example of a "uniquely diverse and decidedly layered" African-American woman on TV. [No Link.]
• The Orlando Sentinel reports that last week The Walking Dead was the top program in the 18-to-49 age group with seven million viewers.
• Nooga.com chats with some of the actors who have played zombies, including the one who ate Lori.
• The Hollywood Reporter credits The Walking Dead for A&E's capitalization on "the recent influx of horror-themed fare on cable."
• ARTISTdirect reviews The Walking Dead's newly-released soundtrack, calling it "just as poignant, poetic, and powerful as the smash hit end-of-the-world epic is."
• Mashable spotlights Barely Political's mash-up of The Walking Dead.
• Laurie Holden will be the executive producer of Honeytrap, a film about gang culture, reports Screen Daily.
• According to The Hollywood Reporter, Dallas Roberts has joined the cast of CBS' Unforgettable.
• Android Police reports that AMC's "Dead Yourself" app is now available for smartphones using the Android operating system.
• For recaps and reviews of Season 3, Episode 14, "Prey," check out Cinema Blend, CNN, Comic Book Resources, Contra Costa Times, Entertainment Weekly, E! Online, FEARnet, FoxNews.com, The Huffington Post, Mania, SheKnows, Slate, TIME, TVLine and Zap2it.
• To stay up-to-date on all the latest news about The Walking Dead, sign up for the weekly Dead Alert newsletter.
Read More