Press
Lennie James Talks Morgan's Return; SNL Parodies The Walking Dead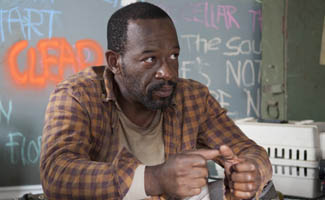 This week, Lennie James talks about Morgan's return in last week's episode, while Saturday Night Live parodies The Walking Dead. Plus, The New York Times examines why The Walking Dead's ratings are better than anything on broadcast TV. Read on for more:
• Lennie James talks to Entertainment Weekly, The Hollywood Reporter and MTV about Morgan's return, after 30 episodes and two-and-a-half years. Andrew Lincoln also speaks to Zap2it about what it was like to act with James again.
• The Hollywood Reporter and TV Guide highlight Saturday Night Live's send-up of The Walking Dead, with the latter saying the host, Kevin Hart, was "at his best" when attempting to join the show's survivors.
• The New York Times tries to explain why The Walking Dead's ratings among 18-to-49 year-olds are so much better than anything on broadcast TV.
• Entertainment Weekly, The Hollywood Reporter, HitFix, TVLine, The Wall Street Journal and Zap2it share what they learned from The Walking Dead's panel last weekend at PaleyFest.
• On the PaleyFest red carpet, The Huffington Post, HitFix and TODAY caught up with the show's cast and crew. E! Online asks about the prospects of a Daryl/Carol romance and a Merle/Michonne confrontation.
• Norman Reedus also chats with Entertainment Weekly about the possibility of a romance between Daryl and Carol.
• If you have 90 minutes to spare, then check out ComicBook.com for a video of The Walking Dead panel at PaleyFest, featuring many members of the cast and crew.
• HitFix and TV Guide report on Andrew Lincoln and what he had to say at last weekend's PaleyFest about Rick's emotional state.
• Comic Book Resources tries to get some Season 4 scoop from Robert Kirkman and Gale Anne Hurd. Hurd shares, "We are going to amp up the threat of the walkers, because they've started to seem like a manageable threat."
• Robert Kirkman does his weekly post-mortem of the most recent episode with Entertainment Weekly, The Hollywood Reporter and IGN. About Lennie James, he says, "He was such an integral piece of the pilot, which made people invest in this show so quickly. To have him back as Morgan is really cool."
• USA Today gets Gale Anne Hurd's take on the women of The Walking Dead: Andrea, Carol, Michonne, Maggie and Beth.
• Lauren Cohan visits with Jimmy Kimmel and shares some details about the death dinners held in honor of departing cast members.
• Laurie Holden tells TV Guide that the Governor will soon have dissension among his ranks.
• Norman Reedus credits the fans with keeping Daryl alive, according to The Associated Press.
• Danai Gurira speaks with E! Online about how Michonne is capable of opening up to people, "even in this harsh post-apocalyptic world, but on her own terms and according to her own code."
• Access Hollywood interviews Danai Gurira, who shares her tips on how to survive a zombie attack and explains how she helped decide on Michonne's look.
• More.com has a fashion shoot with Danai Gurira and an accompanying article, where Gurira describes Michonne's attitude as, "I'm going to figure out how this world now works and make it work for me."
• "When it cuts to black at the end of season three, there will be millions of mouths agape," Dallas Roberts tells Entertainment Tonight about the Season 3 finale.
• Norman Reedus should host an episode of Saturday Night Live, according to ComicBook.com.
• TheCelebrityCafe.com provides viewers with a list of 10 essential episodes, including last week's "Clear."
• At the Emerald City Comic Con, ComicBook.com has a synopsis of Michael Rooker and Danai Gurira's Q&A, as well as a report of Gurira discussing how Michonne doesn't consider the possibility of losing to the Governor.
• Celebuzz features a black-and-white photo of Danai Gurira as Michonne and shares five things about the "katana-wielding butt kicker."
• Boulder, Colo.'s The Daily Camera chats with a local resident who's been an extra on a few episodes of The Walking Dead.
• For recaps and reviews of Season 3, Episode 12, "Clear," check out Atlanta Journal Constitution, The Atlantic, CNN, Comic Book Resources, Entertainment Weekly, Forbes, The Guardian, HitFix, The Huffington Post, Los Angeles Times, Michigan Live, New York Daily News, Slate, Time, TV Guide, TVLine, The Wall Street Journal and Zap2it.
• To stay up-to-date on all the latest news about The Walking Dead, sign up for the weekly Dead Alert newsletter.
Read More