Press
Laurie Holden Explains Andrea's Actions; Robert Kirkman Talks De-Jawing Zombies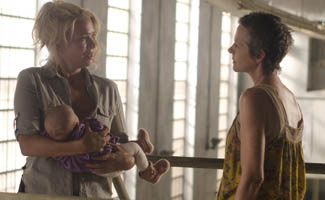 This week, Laurie Holden explains Andrea's actions, while Robert Kirkman talks about de-jawing zombies and other things that happened in "I Ain't a Judas." Plus, The Walking Dead's ratings remained high despite airing against the Oscars last week. Read on for more:
• Laurie Holden explains to TV Guide why Andrea didn't kill the Governor in last week's episode. Holden chats further with New York and E! Online about Andrea's choices.
• Go to Entertainment Weekly and The Hollywood Reporter for Robert Kirkman's post-mortems of The Walking Dead's most recent episode. He calls the de-jawing of the zombie something that's "thrown into the mix to remind people that this show is insane."
• According to Zap2it, the Oscars, which aired during last week's episode of The Walking Dead, made hardly a dent in the drama's ratings, which actually notched a one-tenth-point gain in the 18-to-49 demographic. Moreover, Media Life says the drama had the three biggest audiences of any cable show in February and is "one of just a handful of shows that can raise a network's ratings significantly all by itself."
• Glen Mazzara speaks with the Los Angeles Times about the dynamic between the Dixon brothers.
• MSN chats with Andrew Lincoln, who calls The Walking Dead "the greatest filming job of my career" and discusses the deaths of major characters on the show.
• E! News sits down with Norman Reedus, who shares that the rest of Season 3 is "sad and it's exciting and terrifying all at the same time."
• Sarah Wayne Callies is interviewed by the Atlanta Journal Constitution about her encore appearances on The Walking Dead.
• The Hollywood Reporter chats with Laurie Holden about Andrea's actions and how they're ultimately a homage to Dale. Holden also talks to TV Guide, Access Hollywood and Indiewire — and submits to The Huffington Post's #nofilter quick-fire Q&A.
• Steven Yeun takes another turn with The Walking Deadcast, talking about the state of Glenn and Maggie's relationship and his favorite TV shows (Breaking Bad is one of them). TV Fanatic talks to Yeun about dealing with fame, especially being recognized by fans.
• The Oregonian interviews Michael Rooker, who asserts that "decisions made by Rick, or Merle, or Daryl, are based on survival and trying to keep their humanity intact."
• ComicBook.com has video of Michael Rooker doing an audience Q&A at last weekend's Wizard World Portland Comic Con. Bleeding Cool has an account of Rooker and Norman Reedus's panel at the convention.
• David Morrissey, doing a Q&A with RadioTimes, reveals that Andrew Lincoln is a better golfer than him and observes, "People don't know whether to love the Governor or hate him. I like that." The Fort Worth (Tex.) Star-Telegram asks David Morrissey five questions, including whether he had any preconceived notions of the Governor when he was cast in the role. (No link.)
• Several publications, including The New York Times, The Washington Post, USA Today and Entertainment Weekly, covered the news of Scott M. Gimple's promotion to The Walking Dead's showrunner.
• Adweek reports that the highest-rated cable show among women year-to-date is The Walking Dead.
• The Walking Dead makes it to No. 1 on The A.V. Club's TV Club Power Rankings last week.
• AMC is No. 1 on TV.com's network power rankings because "The Walking Dead is not just an unbelievably successful show on basic cable; it's an unbelievably successful show period."
• Digital Spy pronounces The Walking Dead the best comic book TV series.
• CBS News spotlights Senoia, Georgia, which has stood in for everything from 1930s rural Alabama to modern day Los Angeles and, now, post-apocalyptic Woodbury.
• Chattanooga (Tenn.) Times Free Press talks to a local man about his experience as a non-zombie extra in last week's episode.
• Check out Toy News International for pictures of the third set of The Walking Dead figures from McFarlane Toys.
• Jon Bernthal does interviews with Flicks and Bits, Hollywood.com and NextMovie to promote his new movie, Snitch.
• Indiewire highlights IronE Singleton's newly-published autobiography, Blindsided by the Walking Dead.
• Sarah Wayne Callies asks in The Huffington Post, "What would it look like if we all decided to [do] a little more for healing with all of the same ingenuity and bravery that has been brought to war?"
• For recaps and reviews of Season 3, Episode 11, "I Ain't a Judas," check out Cinema Blend, CNN, Contra Costa Times, Entertainment Weekly, FoxNews.com, The Guardian, HitFix,The Huffington Post, New York, Slate, Time, TV.com, TV Fanatic, TVLine and Zap2it.
• To stay up-to-date on all the latest news about The Walking Dead, sign up for the weekly Dead Alert newsletter.
Read More