Press
Robert Kirkman on Merle's Return; Andrew Lincoln, David Morrissey Talk Rick Vs. Governor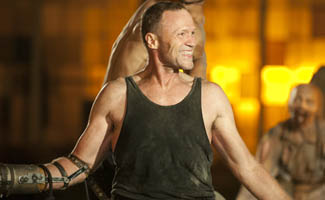 This week, Robert Kirkman discusses Merle's return, and other events from "Home," with several publications, while Andrew Lincoln and David Morrissey talk about Rick vs. the Governor with The Hollywood Reporter. Plus, Entertainment Weekly takes a look at the most recent episode with Glen Mazzara and Lew Temple, who played the newly-departed Axel. Read on for more:
• Robert Kirkman dissects the latest episode with Entertainment Weekly, The Hollywood Reporter and IGN and discusses Merle's return to the fold.
• Andrew Lincoln and David Morrissey talk to The Hollywood Reporter about the confrontation between Rick and the Governor.
• Entertainment Weekly chats with Glen Mazzara about Season 3, Episode 10, "Home" and also with Lew Temple about the late, lamented Axel.
• The New York Times looks at TV shows killing off main characters, with one of Lost's co-creators noting that The Walking Dead "kills off familiar characters almost routinely."
• The Associated Press points out that ratings for The Walking Dead, with 11.1 million viewers, beat everything else on TV on Sunday night.
• David Morrissey speaks with the BBC about "trying to build more complexity into the role" of the Governor. Morrissey is also interviewed by Singapore's New Straits Times and refuses to tell Wetpaint whether the Governor will end up on the side of good or evil.
• TV Fanatic chats with Steven Yeun, "who is doing some of his best dramatic work as Glenn."
• Norman Reedus tells The Sydney Morning Herald what he knows about women, saying he "grew up with a lot of women around me and I learnt to respect them from an early age…"
• USA Today has a video interview with Danai Gurira, who explains why Michonne needs to stay with the community at the prison. RTÉ.ie also chats with Gurira, while The Washington Post talks to Gurira about her other career, as a playwright.
• The San Jose Mercury News showcases young Hollywood's most impressive actors, including Chandler Riggs, who's "grown up before our eyes and has had us riveted the whole way."
• Us answers burning questions that viewers have about The Walking Dead, such as, "Is Rick going insane?" and "How hard is it to wield a katana?" (No Link.)
• Greg Nicotero and members of The Walking Dead cast did panels in a few U.S. cities — and ComicBook.com, ThirdCoast Digest and Channel Guide Magazine provide some excerpts.
• The Hollywood Reporter looks at the popularity of live, "DVR-proof" TV programs, like Talking Dead. (No Link.) TBI reports that bonus content from Talking Dead will be released on the Nerdist YouTube Channel.
• Lauren Cohan will guest-star in an episode of NBC's Law and Order: SVU that will air in March, according to The Hollywood Reporter.
• Digital Spy and TVLine report on the Writers Guild Award win for The Walking Dead: Cold Storage webisodes.
• NBC Sports reports that Lew Temple (Axel) played minor-league baseball and was a major league scout for the New York Mets and Houston Astros.
• Jon Bernthal is busy post-The Walking Dead but not too busy to keep tuning in to the zombie drama that gave him his big break, according to CBSNews.com.
• What are the 10 most shocking moments from The Walking Dead so far? WhatCulture has a list.
• In The Huffington Post, Chris Hardwick opines about various video parodies of The Walking Dead.
• Sarah Wayne Callies blogs in The Huffington Post about speaking with Syrian refugees in Mafraq, Jordan and why there may be hope for them yet.
• For recaps and reviews of Season 3, Episode 10, "Home," check out Atlanta Journal-Constitution, CNN, Collider.com, Comic Book Resources, Contra Costa Times, Entertainment Weekly, E! Online, The Huffington Post, Los Angeles Times, MLive.com, New York Daily News, The Oregonian, Rolling Stone, The Wall Street Journal and Zap2it.
• To stay up-to-date on all the latest news about The Walking Dead, sign up for the weekly Dead Alert newsletter.
Read More