Press
David Morrissey Visits David Letterman; E! Previews Rick vs. the Governor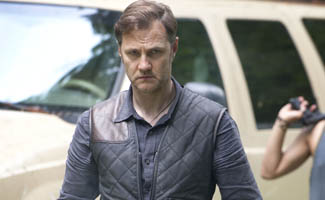 This week, David Morrissey visits David Letterman, while E! News previews the confrontation between Rick and the Governor. Plus, Gale Anne Hurd talks to Forbes about going green on the set. Read on for more:
• David Morrissey visits The Late Show (go to the 32:10 mark) to talk about "the zombie show" with David Letterman, noting that his 17-year-old son now thinks he's cool because of The Walking Dead.
• E! News takes a quick look at the upcoming showdown between Rick and the Governor — "the battle fans have been waiting for."
• Forbes interviews Gale Anne Hurd about being environmentally-friendly in Hollywood, including on the set of The Walking Dead.
• The Chicago Tribune talks travel with Laurie Holden, who says that Africa is a her favorite travel destination.
• David Morrissey speaks with South Africa's The Star Tonight about the Governor, whom he characterizes as a "sort of mixture of ruthlessness and caring. I think it's that dichotomy in him that is interesting."
• Laurie Holden has been using her Twitter account to defend Andrea's actions to The Walking Dead's fans, according to Wetpaint.
• Glen Mazzara offers fans a look at artwork for sets such as the prison, Woodbury and the Governor's living quarters, reports TheWrap.
• Check out Newsday for its take on why zombies are so popular. Gale Anne Hurd thinks it's because of our "zeitgeist of a world in which most of us feel we're dancing on the edge of the abyss."
• The Walking Dead, which "brings the zombie subgenre back to life," is No. 3 on HorrorMovies.ca's list of the top 10 horror television shows.
• The Los Angeles Times features the new trailer for Season 3, Episode 9, "The Suicide King." So do Deadline, Entertainment Weekly, The Hollywood Reporter and TVLine.
• The New Zealand Herald and Zimbio like AMC's "Dead Yourself" app, with the latter calling it "serious fun."
• CBS and The Huffington Post report that the cover of the Georgia Travel Guide, the state's new tourism guide, depicts Senoia, where The Walking Dead is partially shot.
• Screen Crush highlights the cosplay of two The Walking Dead fans, who displayed a "cool take" on Michonne and one of her zombie slaves at Comic-Con last year.
• Go to The Huffington Post to read Sarah Wayne Callies' account of her upcoming trip to Jordan and Iraq with the International Rescue Committee.
• Screen Crush reports on Nick Gomez's (Tomas) Twitter announcement that he's been cast in a recurring role on Showtime's Dexter.
• Zap2it speaks with Emma Bell about her role on TNT's Dallas and working with Judith Light.
• To stay up-to-date on all the latest news about The Walking Dead, sign up for the weekly Dead Alert newsletter.
Read More