Press
AMC's The Walking Dead Midseason Premiere Delivers 12.3 Million Viewers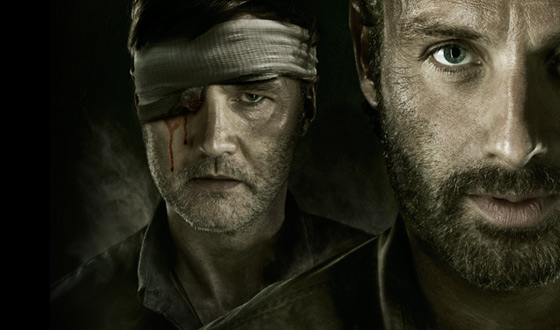 Last night, AMC's Midseason Premiere of The Walking Dead returned with its largest audience ever in series history delivering 12.3 million viewers at the 9/8c premiere. The previous record was 10.9 million viewers from the Season 3 Premiere on Oct. 14, 2012. The episode is also the strongest telecast for a series in basic cable history for adults 18-49 with 7.7 million. These results shatter the hit series' previous record with an increase of +6% (A18-49) over the Oct. 14, 2012 Season 3 Premiere. The Walking Dead Season 3 series average for adults 18-49 delivers 6.8 million, outperforming other television series season averages including Modern Family, The Big Bang Theory, Two and A Half Men, and NCIS. In addition to the 9/8c premiere, the show encored at 11/10c, and 2AM/1c, delivering 16.6 million viewers for the night.
Following the 9/8c premiere of The Walking Dead, AMC premiered a new episode of Talking Dead at 10/9c. 4.1 million viewers tuned in to the live show. Hosted by Chris Hardwick, Talking Dead is a companion series to The Walking Dead and features Hardwick and fans, actors, producers and other TV enthusiasts discussing and dissecting that night's Dead premiere. The series expanded to a full hour for the final 8 episodes of Season 3.
"When you look at numbers like this, the first thing that comes to mind is how grateful we are to the fans of this show. They embrace The Walking Dead in a way that we wanted to believe was possible but we never take for granted," said Charlie Collier, AMC's president. "The cast and crew put everything they have into making this show. They're a phenomenally talented group who truly give their all. We congratulate everyone involved."
Hailed by Entertainment Weekly as "the greatest thriller ever produced for television," The Walking Dead has become a juggernaut on social media. The series currently has close to 15 million likes on Facebook and last night The Walking Dead was a top trend on Twitter for the night of the Midseason Premiere. Based on the comic book series written by Robert Kirkman, the Emmy Award-winning series tells the story of the months and years that follow the zombie apocalypse. It follows a group of survivors, led by police officer Rick Grimes, who travel in search of a safe and secure home.
Read More