McFarlane Toys' AMC The Walking Dead Series 3 Action Figures Arrive March 2013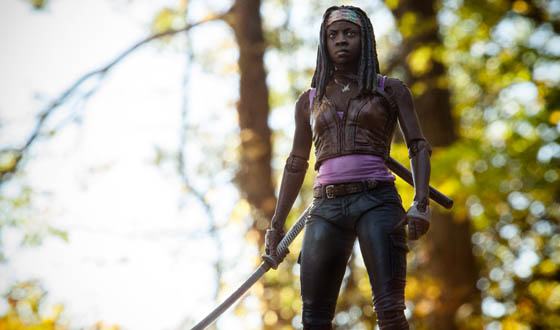 Following the success of its previous AMC's The Walking Dead action figure lines, McFarlane Toys and AMC have teamed up to deliver an all-new series of action figures, available in stores this March. Each human figure features the exact likeness of the actor by using a 3D scanning process. And just like the first and second series of figures, each zombie features unique play-action.
"As fans of The Walking Dead TV show since its very inception, our goal is to bring out the most intriguing characters, unique play features and accessories that will reward the fans who have supported this show," said Todd McFarlane, McFarlane Toys founder and creative director. "We want to push the envelope so that the true essence of the show is captured."
Releasing March 2013, the five figure line of McFarlane Toys' AMC The Walking Dead Series 3 will feature fan-favorite characters from the show, including:
Michonne
The mysterious stranger who saves Andrea from walkers with her katana blade and two pet walkers in tow. She is a quiet, but fierce warrior. This action-figure comes with 24 points of articulation, removable poncho, katana sword and katana sheath.
Merle Dixion
Left for the dead in Season 1 by Rick and the rest of the survivors, Merle Dixon, the estranged brother of Daryl Dixon, makes his full return in Season 3. This action-figure comes with 20 points of articulation and a prosthetic arm with a removable bayonet.
Autopsy Zombie
In Season 2, Rick and Daryl perform an autopsy on this newly fed zombie to find out the contents of his stomach in a desperate attempt to locate Sophie. This zombie figure includes a knife and removable shirt to reveal an exposed stomach, partially digested hand and a woodchuck carcass.
Michonne's Pets
Connected directly to Michonne's past, she has rendered both these walkers harmless by removing their bottom jaw and arms. Now that both Pets are somewhat subdued, she puts them to good use as pack mules and zombie repellant. Both Pets come with removable backpacks, neck chain leash, arms and jaw. Each Pet sold separately.
Each 6-inch scale human figure includes multiple interchangeable accessories and several points of articulation. Each zombie figure features unique, gory play action — such as removable body parts — and cool accessories. Figures are expected to sell for around $14.99 to $16.99 at GameStop, Barnes & Noble, Hastings Entertainment, Toys 'R' Us U.S. and Canada, Target Canada, EB Games, F.Y.E. and comic book and specialty stores nationwide.
Click here to visit The Walking Dead shop and purchase Series 1 and 2 action figures.
The Walking Dead returns Sun., Feb. 10 at 9/8c on AMC.
Read More