Uncategorized
Q&A – Danai Gurira (Michonne)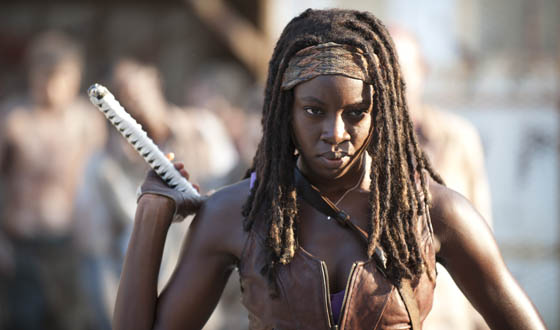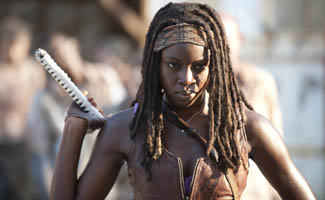 Actress Danai Gurira, who plays the katana-wielding survivor Michonne on AMC's The Walking Dead, talks about what she has in common with her character and explains why zombies in her native Zimbabwe are not all that different from zombies here.
Q: Michonne has one of the coolest weapons on the show: the katana. Did you know how to use a sword before you got the part?
A: I trained a lot for that. I knew for Michonne, it's an extension of herself. It was like a re-empowerment process after the apocalypse, and for me it was the same thing as I was learning it. It was like learning to ride a bike or jump rope: at first you're terrible and then it starts getting more and more smooth. Then you start to feel really fast. But it was new muscles and a new way of moving and connecting to something.
Q: If you had to defend yourself with a katana, could you do it now?
A: Yes, of course. I feel pretty confident in terms of being able to use it to do what I gotta do. I never dreamt I'd be learning how to use a katana, but that's what I love about being an actress. On set, the blade was dull, but it's still very powerful. I have the best instrument, let's not kid ourselves about that.
Q: In terms of characters on the show, who do you think you're most similar to?
A: The past season, I've related a little bit to Andrea, because she's tough and strong in a way that made sense to me. She has a swagger. And surely Michonne.
Q: Michonne is the strong, slient type. Is that what you're like?
A: No I'm extremely verbal. I talk. But I get it. I loved not having to talk for awhile. I think Michonne was probably a little bit more of a talker before the apocalypse.
VIDEO: Inside The Walking Dead Season 3 Episode 7, "When the Dead Come Knocking"
Q: Michonne is very distrustful of the Governor. Can you think of a situation where you were mistrustful and your suspicions were eventually confirmed?
A: Oh yeah, totally. There are people that I don't like from the get-go. It's about having a strong connection to your gut — and trusting your gut. My sister is also kind of frighteningly expert at that; almost more Michonne than me. But for Michonne, you have to realize the Governor took her weapon and blindfolded her. That's not how you embrace people.
Q: How did you feel about taking out a child in the big fight scene with the Governor?
A: That was not a child, that was a zombie! She was in a very undignified state. I mean she was living with her head locked to a wall and her hands bound up, in a room full of severed heads. And besides, the kill they did digitally in post-production, in terms of the sword going through her mouth.
Q: You spent much of your childhood in Zimbabwe. Do they have their own zombie stories there?
A: You Americans, you have no idea how much your stuff infiltrates the rest of the world! I grew up listening to Tupac and Whitney Houston, and watching Brad Pitt and Tom Cruise. We got all of it; they have zombies over there. South Africa is airing this show, which means Zimbabwe gets to watch it.
Q: Has your family seen it?
A: My dad's been watching it, he seems to like it a great deal. He says it's not about zombies; it's about people and life.
Click here to read an interview with David Morrissey, who plays Michonne's antagonist, the Governor.
Read More