Uncategorized
Q&A – Vincent M. Ward (Oscar)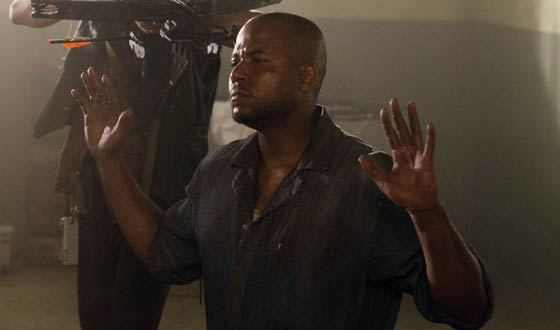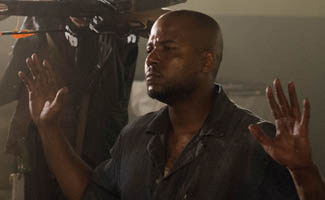 Actor Vincent M. Ward, who plays Oscar on AMC's The Walking Dead, describes how his life has paralleled Oscar's, shares a secret skill he kept from his cast-mates and ponders a crime-fighting future for Axel and Oscar.
Q: Have you turned into a full-fledged zombie nerd now that you've been on the show?
A: No. I can't say that I have. But I enjoyed what I was doing on the show — big time — and meeting some real cool people. To hear how excited and enthused everyone is about the comic books? I'm thinking I might start reading some!
Q: You've played cops, pimps, bodyguards, and a CIA agent. Why do you think you're so often cast as a tough guy?
A: I believe it's because of my height and my build — a lot of times they don't want you to make the star look like a midget. At 6'4", 250 lbs., yeah, sometimes you get typecast! Right now, I'm able to say, "No, I don't want that part," and wait patiently to play other parts. But Oscar, he was a good guy.
Q: You were a decorated athlete in high school. How do you find yourself a professional actor?
A: I've always been an entertainer. I used to dance on the court when I played basketball. And I used to dance in a rap group, opening up shows for people like MC Hammer, Public Enemy and Special Ed. I used to love dancing. Right after high school, instead of going to college, I was out touring with the rap group and having fun.
Q: Did those dancing skills come in handy on set?
A: Not really. It was all business. Nobody knew that I could really cut a rug.
VIDEO: Inside The Walking Dead Season 3 Episode 2, "Sick"
Q: Oscar shows his loyalty to Rick and the gang by killing Andrew — have you ever had to prove yourself like that to a group?
A: You know, I've never really hung with a group. My actions and loyalties usually speak for themselves. I always try to lead by example; when you're the leader, you don't have to prove anything.
Q: Your website opens with a video of you rising from a coffin. Is that an interpretation of your time on The Walking Dead?
A: I call it rise and grind. Every day I always try to give something to people or say something positive. You have to get up and do something to better your life or better somebody else's life. Even though I've accomplished a lot in the past, when I started working on The Walking Dead I really felt like my career just began. That's why you see me coming out; everything else is past and dead and it's about walking in to what you really wanted.
Q: Oscar and fellow prisoner Axel had a great two-man routine going. You guys work on that off-set?
A: Oh man, Lew Temple is the man. He is like a friend now, somebody that I call, text and hang out with, whenever. It was more than just business. I learned from him because he's been in the game a little while. And we had some chemistry. Hopefully somebody will write a show with me and him. We can be the new Mel Gibson and Danny Glover.
Click here to read an interview with Andrew Lincoln, who plays Rick Grimes on AMC's The Walking Dead.
Read More