Press
Greg Nicotero Talks Death With THR; Steven Yeun Chats with Craig Ferguson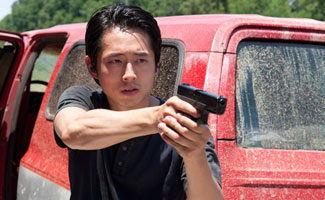 This week, Greg Nicotero talks with The Hollywood Reporter about imminent death in the rest of Season 3, while Steven Yeun chats with Craig Ferguson on The Late Late Show. Plus, The New York Times talks to Gale Anne Hurd about why horror plays so well on TV. Read on for more:
• Greg Nicotero shares with The Hollywood Reporter that more castmembers will die in the second half of Season 3, which will also further explore the conflict between the Governor and Rick.
• Steven Yeun sits down with Craig Ferguson (go to the 32:00 mark on video) on The Late Late Show and talks about why his shoes don't smell. ComicBook.com also has some highlights from the appearance.
• The New York Times quotes Gale Anne Hurd in an article extolling the virtues of horror on TV. Dread Central also argues that now is a golden age of television for horror fans, asserting that The Walking Dead is "making a claim to becoming one of the greatest television shows ever. Period."
• The Walker Stalkers interviews Michael Rooker, who discusses why Merle's a fan favorite: "They definitely like a bad guy that has some sense of humor behind him." Wetpaint also has highlights from the podcast.
• Greg Nicotero also records a podcast with The Walker Stalkers, revealing that it was Carol, and not T-Dog, who was supposed to die in Season 3, Episode 4, "Killer Within." TVWorld.com has a synopsis of the interview, where Nicotero fielded queries from the show's fans and even some of its cast.
• Lauren Cohan warns SciFiNow that the second half of Season 3 is "going to be an intense ride for the viewers." Cohan also admits, "I grew up watching Star Trek, so I'm a bit of a geek myself."
• Den of Geek interviews David Morrissey, who reminisces about his time on Doctor Who.
• Norman Reedus visits Taiwan to promote The Walking Dead and shares that he likes being able to "create the character [of Daryl] from scratch," according to Focus Taiwan.
• The Oregonian's midseason TV preview highlights The Walking Dead's Feb. 10 return, remarking, "Never a dull moment."
• Michael Rooker runs into his Mallrats director, Kevin Smith (who is also on AMC, in Comic Book Men), according to ComicBook.com.
• Hypable calls AMC's "Dead Yourself" app "a nice way to tide yourself over" until the midseason premiere.
• Go to GeekTyrant to check out a The Walking Dead-themed surfboard.
• For more of The Walking Dead Funko figures, go to Dread Central to get a look at Glenn, Michonne, Michonne's pets and more.
• Shock Till You Drop reports that Shadow People, a film starring Dallas Roberts (Milton), will be released on Mar. 19 on DVD and Blu-ray.
• To stay up-to-date on all the latest news about The Walking Dead, sign up for the weekly Dead Alert newsletter.
Read More