Press
Robert Kirkman Talks With TVLine; TV Guide Previews The Walking Dead's Return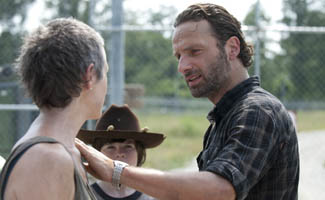 This week, Robert Kirkman talks with TVLine about the upcoming battle between Rick and the Governor, while TV Guide previews The Walking Dead's return next month. Plus, USA Today and Variety discuss The Walking Dead's soaring ratings. Read on for more:
• Robert Kirkman reveals to TVLine that Rick is "certainly spiraling out of control," which doesn't help his state of mind when confronting the Governor.
• Previewing The Walking Dead's Feb. 10 return, TV Guide speaks with Glen Mazzara, who calls the rest of Season 3 "crazy, heartbreaking and thrilling." (No link)
• USA Today highlights the fact that AMC's ratings rose seven percent among young adult viewers, as The Walking Dead "soared to new heights and bested big-network rivals last fall among that audience." Variety points out that cable dramas like The Walking Dead are "often beating the Big Four [broadcast networks] in key demos."
• A reporter for The New York Times writes about the lucrative avenues for revenue in the cable business and blames The Walking Dead for turning him into "an unstoppable zombie myself, ringing AMC's cash register every time I turned around."
• Variety reports that this year's PaleyFest, an annual TV event, will open with a panel featuring The Walking Dead.
• Citing The Walking Dead (and Mad Men), CNN observes that "showrunners everywhere should take note that virtually no one is safe on the most highly acclaimed dramas."
• Us Weekly compares The Walking Dead to Fox's new series, The Following, asking, "Zombies or Serial Killer? Choose your scare!" (No link)
• The Walking Dead needs your vote! Screencrush is polling readers to decide 2012's best TV series — and right now the drama's losing to FX's Sons of Anarchy.
• Wetpaint celebrates Norman Reedus' birthday by listing five reasons why it loves The Walking Dead star.
• ComicBook.com marks Lauren Cohan's birthday by complimenting her as "one of the strongest parts of the series."
• To stay up-to-date on all the latest news about The Walking Dead, sign up for the weekly Dead Alert newsletter.
Read More