Press
The Hollywood Reporter, EW, L.A. Times and Salon Say The Walking Dead Among Year's Best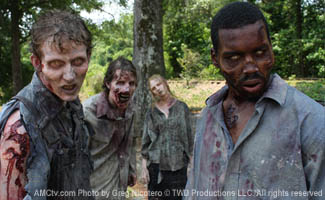 This week, top publications such as The Hollywood Reporter, Entertainment Weekly, the Los Angeles Times, Salon and more call The Walking Dead one of the year's best TV shows. Plus, Lost's co-creator Damon Lindelof talks with Collider.com about The Walking Dead's success. Read on for more:
• The Walking Dead is one of The Hollywood Reporter's top shows of the year: "Season three firmly elevated this series to the upper tier of television. Massively popular and acclaimed, it is hitting its creative stride. A series you should not miss." The Hollywood Reporter also names "cable breakouts" like The Walking Dead as one of this year's TV winners.
• Entertainment Weekly names The Walking Dead one of 2012's top 20 TV shows, remarking that the drama's reason for existence — the question "what does it mean to be human?" — is "intact, throbbing with life."
• The Los Angeles Times includes The Walking Dead in its "Year of Awesome," as the drama "shattered ratings" in the first half of Season 3.
• Salon's Blue Glow Awards ranks The Walking Dead at No. 7 (tied with HBO's Game of Thrones).
• In its list of 2012's best TV, Wired applauds The Walking Dead because "the characters and the show grew tougher, faster and more ruthless, engaged in a constant life-or-death hustle that always felt barely an inch ahead of the zombie maw."
• The New Hampshire Union Leader calls The Walking Dead the year's best TV show, citing that "the show goes to dark places and keeps you guessing because no character is safe and nothing is off limits."
• MTV honors Season 3 as one of its Heroes of the Year, concluding, "With the story moving along so fast, and with so many characters in so many interesting places, I simply cannot wait for the second half of season three to start in February."
• Damon Lindelof, co-creator of Lost, talks to Collider.com about The Walking Dead, praising the drama for "doing a tremendous amount of things very, very right."
• ComicBook.com lists the five biggest shockers of Season 3 so far, while noting that Season 3 "looks to be shaping up as the best season so far."
• New York highlights a Christmas card featuring Michonne, her pets and this greeting: "Walkers in a winter wonderland."
• According to The Hollywood Reporter, Gale Anne Hurd is slated to help develop Gaiking, about giant robots, into a feature film.
• Patch reports that Madison Lintz (Sophia) has a part in Parental Guidance, Billy Crystal's latest film.
• To stay up-to-date on all the latest news about The Walking Dead, sign up for the weekly Dead Alert newsletter.
Read More