Awards
The Walking Dead Receives Satellite Nomination and Special Achievement Award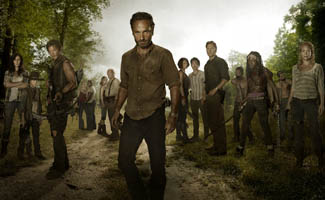 Today the International Press Academy announced its nominess for the 2012 Satellite Awards, and The Walking Dead was honored with a nomination for Best Televison Series, Genre and won the prestigious Special Achievement Award for Best Ensemble, Television.
The Walking Dead's nomination is one of six received by AMC this year, with Mad Men earning two nods for Best Actor and Supporting Actress and Breaking Bad receiving three nominations in the Actor, Supporting Actor and Best Drama Series categories.
Click here to read more about Mad Men's nominations.
Click here to read more about Breaking Bad's nominations.
For the Best Television Series, Genre award, the show faces off against FX's American Horror Story, ABC's Once Upon a Time, The CW's Arrow and The Supernatural, Fox's Fringe and NBC's Grimm for the award.
The awards will be presented during a ceremony on Sun., Dec. 16
Read More