Press
Mazzara and Kirkman Talk Midseason Finale With THR; USA Today Spotlights Andrew Lincoln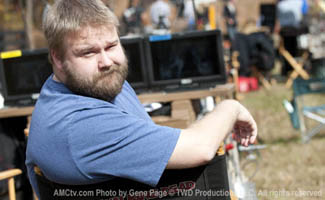 This week, The Hollywood Reporter chats with show runner Glen Mazzara and comic series creator Robert Kirkman, while USA Today spotlights Andrew Lincoln on saying goodbye to killed off characters. Plus, the Midseason Finale ratings are keeping the media buzzing. Read on for more:
• Check out The Hollywood Reporter's interview with both Glen Mazzara and Robert Kirkman about epic confrontations and what's next for The Walking Dead. "I can't wait for people to find out what happens with the rest of season three," Kirkman said.
• USA Today spotlights Andrew Lincoln on saying goodbye to The Walking Dead characters that are killed off. "It's a shame when people go because we all really like each other," the actor gushed. "When somebody goes, we have a death dinner." [No link]
• Glen Mazzara dishes to Los Angeles Times on what's in store for The Walking Dead and when you can expect Rick and The Governor to meet on-screen.
• Ad Week, Deadline, The Hollywood Reporter, USA Today, Variety, and Zap2It report that a total of 15.2 million viewers watched The Walking Dead Midseason Finale episode over three airings on AMC. The Wrap highlights AMC president Charlie Collier who said the records that The Walking Dead shattered "represent an enormous achievement of which we are so proud."
• Ad Week deems Glen Mazarra "Creative of the Year", saying of the EP, "Season 3 has had more WTF moments than any five broadcast series combined, as Mazzara has displayed an almost giddy willingness to kill off any character that can still be classified as human."
• The Hollywood Reporter chats with Glen Mazarra about The Walking Dead Midseason Finale. Mazarra teases, "You won't believe you have to wait two months to find out what happens next!"
• Examiner.com praises The Walking Dead for "constantly moving" and adds that "every episode could essentially serve as its own season finale."
The Hollywood Reporter spotlights the new characters of The Walking Dead including Tyreese and his group.
• TV Guide mentions Shane's cameo in The Walking Dead Midseason Finale. "We wanted to sneak him in," Glen Mazarra said. [No link]
• Examiner.com features an interview with Andrew Lincoln about what fans can expect when The Walking Dead returns from break in 2013.
• New York Magazine includes Carl Grimes as part of their Kids of the Year list. [No link]
• Check out Vulture's photos of Michonne and her many scowls on The Walking Dead.
• Newsday calls The Walking Dead soundtrack album "something fans can really sink their teeth into." [No link]
• Chicago Tribune declares that other networks can learn a lot from The Walking Dead, saying of the series, "The Walking Dead makes the case for taking risks anyway — from letting major characters die, to letting viewers sometimes turn to online friends for answers."
• The Hollywood Reporter announces that The Walking Dead is in the running for a Satellite Award. The show received a nod in the Best Televison Series, Genre category and won the prestigious Special Achievement Award for Best Ensemble, Television.
• The CableFAX Program Awards winners were announced yesterday and The Walking Dead was honored in the following categories: Platinum: Best Cable Program Honorable Mention and Platinum: Best Showrunner: Glen Mazzara.
• The Daily Beast ranks The Walking Dead's 8 Deadliest Kills of Season 3. Check out the featured video clips!
Gather offers their predictions for what to expect from The Walking Dead's new character, Tyreese and his group.
• The Orlando Sentinel praises Norman Reedus for his portrayal of Daryl, saying of the actor, "[Daryl] has become one of the series' most interesting characters." [No link]
• Robert Kirkman tells Salon that he embraces AMC's adaptation of his comic series. "I'm intimately involved in the direction the show is going. That's what makes me so excited about the show," he said.
• io9 chats with Chad L. Coleman who plays The Walking Dead's newest character, Tyreese. "The man has a hammer and he knows how to use it," Coleman promised.
• Gather features an interview with The Walking Dead's Axel, played by Lew Temple. "As I am becoming more and more a part of the team, I understand what they have done to endear themselves to an audience," Temple said. "It is a simple formula: hard work."
• BuddyTV predicts what's to come of The Walking Dead Season 3's return in February.
• A.V. Club reports that Norman Reedus (Daryl), Steve Yeun (Glenn), and Lauren Cohan (Maggie) will join EP and special effects expert Greg Nicotero for a live panel discussion on Feb. 16.
• io9 interviews The Walking Dead's Dallas Roberts who says of his character, Milton, "He's really become a character that I'm quite fond of."
• The Atlanta Journal-Constitution interviews Andrew Lincoln who said of his character, "the moral ambiguity is one of the joys of playing Rick." [No link]
• For recaps and reviews of Season 3, Episode 8, "Made to Suffer," check out ComicBook.com, Examiner.com, IGN, Los Angeles Times, MTV, Rolling Stone, and Yahoo!
• To stay up-to-date on all the latest news about The Walking Dead, sign up for the weekly Dead Alert newsletter.
Save
Read More