Press
Robert Kirkman, Sarah Wayne Callies Talk Deaths; TV Guide Says The Walking Dead Upends TV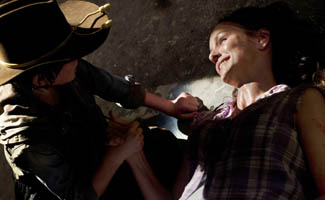 This week, Robert Kirkman and Sarah Wayne Callies talk about the deaths in Episode 4, while TV Guide credits The Walking Dead with changing the face of the TV business. Plus, there are interviews with Glen Mazzara, David Morrissey, Danai Gurira and others. Read on for more:
• In Entertainment Weekly, Robert Kirkman answers questions about Lori's and T-Dog's deaths — and what's going to become of Rick, while Sarah Wayne Callies also speaks about Lori's demise, to Entertainment Weekly, TV Guide and GQ.
• Sarah Wayne Callies and IronE Singleton speak about their characters' respective deaths with The Hollywood Reporter, Comic Book Resources, E! Online, The Atlanta Journal-Constitution and The Huffington Post. IronE also talks to HamptonRoads.com.
• TV Guide says The Walking Dead has "upended the entire TV business," now that it's the No. 1 entertainment series on TV among adults 18-49.
• One lesson The Hollywood Reporter learned from the fall TV season was that viewers and advertisers are embracing shows like The Walking Dead that have darker topics than mainstream TV fare.
• Glen Mazzara and Robert Kirkman conduct a post-mortem of last week's episode with The Hollywood Reporter and TV Guide. Kirkman shares with THR, "As the season progresses, you'll see just how important Lori was to the show and how much of a loss that's going to end up being."
• David Morrissey tells GQ he doesn't think the Governor "had a position of great power before this event happened to the world; and now he's in this position of power and we all know that can corrupt people sometimes."
• The Los Angeles Times interviews Steven Yeun, who reveals there are changes ahead for Glenn, and Danai Gurira, who discusses her background and Michonne.
• IGN has an interview with Lauren Cohan about Maggie's changing role on The Walking Dead.
• ComicBook.com calls Andrew Lincoln's performance in last week's episode, "Killer Within" deserving of an Emmy and "exceptional."
• Glen Mazzara discusses with The Hollywood Reporter how five plotlines from The Walking Dead comic book might play out in the TV show. Meanwhile, TV Guide gets the scoop on the Governor from Mazzara and calls the Governor the "Sickest Skeleton in the Closet" in its top moments of the TV week.
• Former Pittsburgh Steeler Hines Ward played a zombie in last week's episode courtesy of his University of Georgia teammate, IronE Singleton, reports Steelers Depot and NBCNews.com.
• The Los Angeles Times wonders how The Walking Dead will deal with a baby in the mix going forward.
• "The Walking Dead is murdering all competition" when it comes to entertainment check-ins on GetGlue, reports Advertising Age.
• ComicBook.com has a video of Robert Kirkman and McFarlane Toys' Todd McFarlane discussing the newest action figures from The Walking Dead.
• E! Online has a photo of Robert Kirkman's Nov. 18 acting debut, on an episode of Adult Swim's Robot Chicken, where his character is "swiftly eaten and devoured by a bunch of zombies."
• For recaps and reviews of Season 3, Episode 4, "Killer Within," check out The Atlanta Journal-Constitution, CNN, Entertainment Weekly (recap and review), E! Online, HitFix, Los Angeles Times, Rolling Stone, Slate, Time, TV.com, TV Guide, The Wall Street Journal, The Washington Post and Zap2it.
• To stay up-to-date on all the latest news about The Walking Dead, sign up for the weekly Dead Alert newsletter.
Read More