Press
David Morrissey Talks Midseason Finale with Vulture; Reedus Talks Daryl With LA Times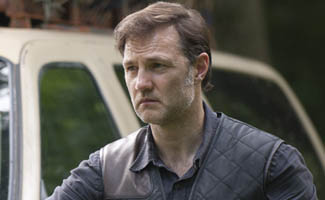 This week, David Morrissey talks to Vulture about what's to come for The Governor in the Midseason Finale, while the Los Angeles Times talks to Norman Reedus about his character's growth. Plus, Wetpaint speaks highly of the show as a serious drama. Read on for more news:
• Vulture interviews David Morissey who talks about his role as The Governor. "I think there is a conscience in there, a slight sense of troubled man," he said of his character.
• The Los Angeles Times talks to Norman Reedus about how his character, Daryl Dixon, has developed. "He's becoming the man this world is allowing him to become," he dished. [No link]
• Examiner.com and Wetpaint Entertainment offer predictions for The Walking Dead Midseason Finale.
• Check out Examiner.com's slideshow of photos from The Walking Dead Midseason Finale.
• Entertainment Weekly calls The Walking Dead "an effective horror story" and says the Midseason Finale is a must-watch. [No link]
• Wetpaint Entertainment says The Walking Dead is about more than just gore, praising the series for "delivering compelling doses of romance, jealousy, grief, fear and pure happiness."
• The Walking Dead's Dallas Roberts (Milton) talks to Screen Rant about his love for the comic series and what's in store for his character.
• ComicBook.com wants CM Punk to offer Michael Rooker a WWE title shot as promised during a bonus episode of Talking Dead.
• The Kansas City Star chats with Andrew Lincoln about The Walking Dead in their latest "That's What He Said" bit. "The pilot was almost like a grand operatic feature film," Lincoln said. [No link]
• Newsday is excited for the release of The Walking Dead soundtrack. "The Parting Glass," sung by Beth and Maggie Green during the Season 3 premiere will be included.
• Check out Blastr's video of Michonne in a scene from the show that replaces her signature sword with a lightsaber.
• Check out The Daily Beast's featured video: a tribute to The Walking Dead's Dale, played by Jeffrey DeMunn.
• Boing Boing reminds fans to tune into The Walking Dead Season 3 marathon this weekend. The marathon starts at 2PM/1C this Sunday and will lead up to the Midseason Finale.
• For recaps and reviews of Season 3, Episode 7, "When the Dead Come Knocking," check out Examiner.com, Fangoria, Forbes, HitFix, IGN, ScreenCrush, The Baltimore Sun, TheCelebrityCafe.com, The Wall Street Journal, TV.com, Wetpaint Entertainment, and Yahoo!
• To stay up-to-date on all the latest news about The Walking Dead, sign up for the weekly Dead Alert newsletter.
Save
Read More