Press
Robert Kirkman Post-Mortems with EW, THR; Norman Reedus, Michael Rooker Talk Reunion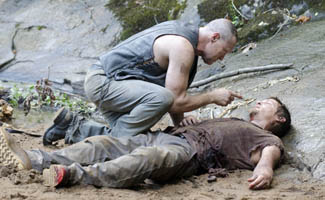 This week, Robert Kirkman does post-mortems of last week's episode with Entertainment Weekly and The Hollywood Reporter, while Norman Reedus and Michael Rooker discuss a Dixon brothers reunion. Plus, TV Guide wonders what will happen when Andrea meets with the group at the prison. Read on for more:
• Robert Kirkman tells Entertainment Weekly that he understands why Andrea would fall for the Governor because "If I was running around in the woods hacking up zombies for a year I can't definitely say I wouldn't sleep with him." Kirkman teases the prison vs. Woodbury confrontation to The Hollywood Reporter: "There's definitely a huge confrontation on the horizon and it's only a matter of time before these two groups are facing each other head to head."
• The Hollywood Reporter asks Norman Reedus and Michael Rooker when Daryl and Merle will reunite. Rooker also shares Merle's moral code with the Los Angeles Times: "Tough love, moral code — if you fall down, pick yourself up."
• TV Guide asks what will happen when Andrea is reunited with Rick's prison gang of survivors.
• Sarah Wayne Callies writes in Entertainment Weekly about being part of The Walking Dead: "When it is your time to join the ranks of the departed, it is no surprise." (No Link.)
• GQ interviews Lauren Cohan, noting that much of The Walking Dead's attraction is "that Southern bombshell Maggie Greene." Cohan tells Today.com that if Maggie has to die, then "I promised myself that it's going to be cool," while she describes Lori's baby to Small Screen Scoop as being "literally like the Messiah."
• According to E! Online, Robert Kirkman doesn't believe in stunt casting, unless the actor in question is Ed O'Neill of ABC's Modern Family.
• The Coventry Telegraph excerpts Danai Gurira's interview in the inaugural issue of The Walking Dead's official magazine.
• ComicBook.com reports on Greg Nicotero sharing intel about some scenes deleted from Season 3.
• Go to the People's Choice Awards website to vote for The Walking Dead in the "Favorite Cable TV Drama" and "Favorite Sci-Fi/Fantasy TV Show" categories. CNN has a rundown of all the nominees.
• Dallas Roberts talks to Screen Crush about Milton and Merle's relationship: "It's definitely sort of brother-like in that way, the brains and the brawn of the situation having to deal with each other." Roberts also sits down with ComicBookMovie.com.
• Robert Kirkman talks to Entertainment Weekly about appearing on Adult Swim's Robot Chicken: "I like robots, I like chickens. I figured it would be a lot of fun."
• ComicBook.com displays photos of the second series of The Walking Dead Minimates, which are scheduled to go on sale later this month.
• Robert Kirkman is a Star Wars fan, according to ComicBook.com.
• Shock Till You Drop has a clip of Greg Nicotero discussing From Dusk till Dawn on the Tarantino XX: 8 Film Collection Blu-ray.
• For recaps and reviews of Season 3, Episode 6, "Hounded," check out The Atlanta Journal-Constitution, A.V. Club, Entertainment Weekly, E! Online, HitFix, MTV, Rolling Stone, Time, TV.com, The Wall Street Journal, The Washington Post and Zap2it.
• To stay up-to-date on all the latest news about The Walking Dead, sign up for the weekly Dead Alert newsletter.
Read More