Cyber Monday Shopping? Here Are 5 Popular The Walking Dead Products to Consider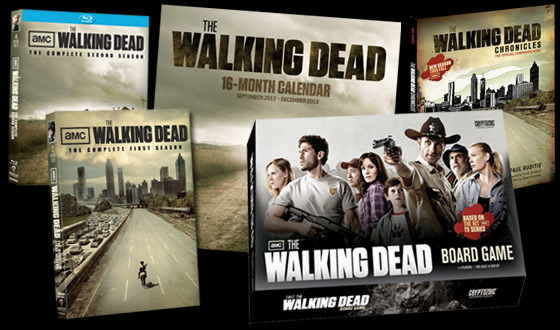 So, you've survived Black Friday. Congratulations! You battled hordes of ravenous shoppers and come out alive. If you didn't get everything you needed, that's okay too, because now today is Cyber Monday and AMC is here to help. Presenting the five most popular The Walking Dead items available for purchase on Amazon.com…
1. The Walking Dead: The Complete Second Season on Blu-ray & DVD
The Walking Dead: The Complete Second Season is the much celebrated next chapter to the acclaimed post zombie apocalypse series. In Season 2, the survivors are still fighting zombies, and each other, facing more threats and obstacles than ever before. The 4-Disc sets will contain all 13 episodes of the second season and is loaded with exclusive behind-the-scenes footage, featurettes and audio commentaries.
Click here to purchase on DVD | Click here to purchase on Blu-ray
2. The Walking Dead: The Complete First Season on Blu-ray & DVD
The Walking Dead: The Complete First Season Blu-ray and DVD contain all six episodes of the first season on a two-disc set and are packed with special behind-the-scenes featurettes, including a behind-the-scenes look at Zombie School and the making of Bicycle Girl.
Click here to purchase on DVD | Click here to purchase on Blu-ray
3. The Walking Dead Board Game
In The Walking Dead Board game, only the strong survive. The weak turn into walkers, and then turn against their former friends! Fight your way through zombie-infested Atlanta, visit destinations like the department store and the CDC. Take on the role of Rick, Andrea or one of the other survivors then scrounge for a shotgun or a crossbow. Should you fall to the hungry horde, the game doesn't end. Instead "dead" players becomes walkers who seek out remaining survivors. If you make it back to camp with enough gear to defend yourself, you win!
4. The Walking Dead Chronicles Official Companion Book
The only authorized, behind-the-scenes guide to Season 1, The Walking Dead Chronicles focuses on the making of the Emmy-winning TV show as well as the creation of the New York Times bestselling comic book on which the series is based. The book is lav­ishly illustrated with unit photography, storyboards, set designs, makeup and visual effects shots, plus page-to-screen comparisons of the comic and TV show. Featuring an interview with comic book creator Robert Kirkman, the book also includes sidebars that serve as a detailed episode guide, and excerpts from early drafts and final scripts.
5. The Walking Dead 2013 Wall Calendar
This is a 16-month calendar for AMC's The Walking Dead TV show. Calendar starts at September 2012 and goes through December 2013 . The calendar features shots and characters from Season 2.
Click here to see all the items available at The Walking Dead shop.
Read More