Press
Hershel's Amputation Is Top TV Guide Moment; Robert Kirkman, Glen Mazzara Talk "Sick"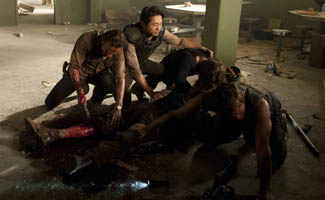 This week, Hershel's amputation is TV Guide's top moment, while Robert Kirkman and Glen Mazzara deconstruct the season's second episode, "Sick." Plus, Kirkman, Mazzara and Andrew Lincoln discuss how Rick has changed over the course of the show's three seasons. Read on for more…
• TV Guide's top moment of the week was the loss of Hershel's leg, especially because "Rick decides to hack it off… with an ax… and no anesthesia."
• Robert Kirkman conducts a post-mortem of the episode with The Hollywood Reporter and speaks with Ace about the influence of his Kentucky upbringing on the show. Also, Glen Mazzara reveals to Entertainment Weekly the genesis of Maggie's farewell to Hershel in last week's episode.
• Hollywood.com posts exclusive pictures from The Walking Dead Season 3 Episode 3, including a new shot of The Governor (David Morrissey) and a walker.
• Robert Kirkman discusses Season 3, Episode 2, "Sick," with Entertainment Weekly and characterizes Rick as "a very different guy who is willing to cross any line if it means protecting the people around him." Zap2it also reports on how Glen Mazzara and Andrew Lincoln think Rick has changed, and Lincoln tells Fangoria, "I think his humanity is pretty intact but his ruthlessness, his decision making, has moved into a Shane point of view."
• Indiewire reports that the multi-talented Danai Gurira, who's also an award-winning playwright, received a Whiting Writers' Award earlier this week.
• Rolling Stone calls The Walking Dead "a juggernaut — elbowing out vampires to become pop culture's reigning undead champ." (No Link.)
• The Los Angeles Times interviews Sarah Wayne Callies about Lori's state of mind at the beginning of Season 3. (No Link.)
• TV Guide discusses Rick's many challenges, marital and otherwise, with Andrew Lincoln. Lincoln also tells the Coventry Telegraph that Rick and the Governor's upcoming power struggle is "a clash of civilisations and ideologies." With the Chicago Sun-Times, Lincoln talks about Rick's "shocking" amputation of Hershel's leg.
• The Huffington Post interviews Greg Nicotero, who calls The Walking Dead's mainstream success "mind-blowing." Also, Nicotero gives a zombie makeover to an Entertainment Tonight reporter.
• Steven Yeun tells CNN about Maggie's importance in Glenn's life: "Maggie is his strongest link… I think she's the only thing that keeps him from going off on his own. I don't think he completely trusts the group." GQ interviews Yeun about playing "the last nice guy on earth." Zap2it learns more about Glenn and Maggie from Steven Yeun and Lauren Cohan — who also chats with TV Fanatic about Season 3.
• Norman Reedus, the subject of a Comic Book Resources interview, describes Season 3's Daryl: "I think he's found some comfort in having people rely on him. He doesn't feel like as much of an outsider." Reedus also speaks with IGN about his character. Reedus and Laurie Holden talk to Access Hollywood about what's coming up for their characters, while Reedus speaks about his spin-off idea for Daryl and Carol.
• Michael Rooker explains to an Entertainment Weekly podcast that Merle gets a bad rap. Mania speaks with Robert Kirkman and Rooker, who describes Merle as "a survivor, he will do whatever it takes or whatever is needed to survive."
• Gale Anne Hurd and Greg Nicotero sit down with HitFix for a wide-ranging interview and discuss how the chopping off of Hershel's leg was almost too much for even the two of them. Hurd and Andrew Lincoln speak with several news outlets, including Comic Book Resources, with Lincoln sharing that Rick now relates best to Daryl because "Daryl is the one who understands the burden of responsibility that Rick chooses to carry."
• Sci-Fi Talk has Glen Mazzara and Steven Yeun discussing the wordless scene that opened Season 3, among other things.
• Danai Gurira discusses the advantages of Michonne's katana with Comic Book Resources: "…it's economical. It can take off a lot of heads and doesn't make a lot of noise. It's a smart weapon to have."
• David Morrissey shares with Metro that he and Andrew Lincoln always use American accents while on set, which is "actually very easy to do because you're surrounded by the accent. It would be strange to speak in an English accent in the middle of all that." In an extensive interview with The Telegraph, Morrissey extols the "independent aspect to American film-making, which I think is being channelled into television, with these big, 13 or 16-episode dramas, with strong storylines."
• Chandler Riggs talks to Tampa's ABC Action News about Carl getting shot in Season 2.
• The New York Times observes that the top cable dramas, namely The Walking Dead, are the "greatest threat in the battle for younger viewers." Similarly, MediaPost notes there's "clearly a growing audience for the horror genre — and much of it consists of those elusive young adults that advertisers continue to covet." Variety examines the implications of the "jaw-dropping" Season 3 premiere ratings. Meanwhile, ratings for the season's second episode held steady, with 9.5 million viewers, plus 6.5 million viewers in the 18-to-49-year-old demographic, according to the Associated Press. Deadline points out that the episode was the highest-rated non-football program of the week among 18- to 49-year-olds, and the Season 3 premiere did well overseas too. Entertainment Weekly lists six things that "the Big Four networks can learn from shows like The Walking Dead."
• The New York Post believes the ratings success of The Walking Dead means that "regular Joes are smarter than those big-bucks smarty-pants big-shot Hollywood suits."
• Ad Age reports that The Walking Dead posted its second week in a row at the top of the GetGlue social networking website, giving "cable execs new confidence in original cable programming at a critical time for smaller networks trying to distinguish themselves."
• Dale makes it onto E! Online's list of TV's most gruesome deaths: "Not only a gruesome death, but a shocking one, since Dale is heavily featured in the comic books for a long time."
• Why is The Walking Dead the number one show on TV? Hollywood.com lists five reasons.
• Just a few days before Halloween, Greg Nicotero talks to The Hollywood Reporter about collaborating with Universal Studios on the Halloween Horror Nights attraction: "Our fans are so devoted and passionate about the series, and I couldn't wait to give them the opportunity to actually walk into a scene from the show."
• Indiewire examines The Walking Dead's place in the landscape of apocalyptic TV.
• The Anniston Star loves zombies, but "what makes this series a must-see isn't the dead or the gore. It's the fear in the living's eyes."
• Shockya features some "really awesome" Season 3 behind-the-scenes photos. Zap2it highlights images from Season 3, Episode 3, "Walk With Me."
• For recaps and reviews of Season 3, Episode 2, "Sick," check out Assignment X, The Atlantic, Digital Spy, Entertainment Weekly, E! Online, Hitfix, Los Angeles Times, New York Daily News, The Oregonian, Rolling Stone, Slate, The Star-Ledger, Time, The Washington Post and Zap2it.
• To stay up-to-date with all the latest news from The Walking Dead, sign up for the weekly Dead Alert newsletter.
Read More