Press
Glen Mazzara Rises on THR Heat Index; Steven Yeun Talks Comics, Twitter with Conan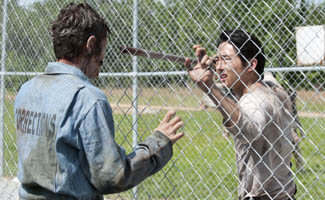 This week, Glen Mazzara is on the rise in The Hollywood Reporter's weekly Heat Index, while Steven Yeun talks comics and Twitter with Conan O'Brien. Plus, several members of the cast and crew discuss the Season 3 premiere, and The Walking Dead invades New York Comic-Con. Read on for more:
• Glen Mazzara is on the rise, according to The Hollywood Reporter's Heat Index, after a Season 3 premiere that pulled in ratings "bigger than any entertainment series this fall on broadcast cable." (No Link.)
• Steven Yeun shows up on Conan, explaining his Twitter profile picture and why he takes solace in comic books.
• The Hollywood Reporter talks to Glen Mazzara and Robert Kirkman about the events of the Season 3 premiere.
• Robert Kirkman tells TV Guide about Season 3, "There's definitely a lot of really cool stuff in this era of the comic book series that we'll definitely be adapting." Kirkman also dissects the Season 3 premiere with Entertainment Weekly, noting "I'm living a charmed life, let's just say that," and speaks with MTV about the season premiere. TVLine looks ahead with Kirkman.
• Who were the prisoners in the final scene of the Season 3 premiere? Glen Mazzara provides the details to Entertainment Weekly. Mazzara also does a Q&A with GQ, in which he reveals that his favorite show is Breaking Bad.
• Entertainment Weekly attended The Walking Dead panel at New York Comic-Con, where the "fans turned out en masse." There's more coverage of the panel from BBC America, ComicBook.com, Comic Book Resources, Geeks of Doom, The Guardian, Hollywood.com, The Huffington Post, IGN, Newsarama and Screen Rant.
• On the sidelines of New York Comic-Con, Nerd Bastards and Newsarama speak with Robert Kirkman. Kirkman and Michael Rooker also chat with IGN. Kirkman and Rooker are joined by Danai Gurira and David Morrissey for a conversation with MTV, while MTV also talks with Kirkman one-on-one.
• The New Yorker explains why it's "fallen in love" with The Walking Dead.
• The New York Times gets some face time with Norman Reedus, who characterizes The Walking Dead's world as "a very unforgiving one."
• Greg Nicotero explains to Entertainment Weekly that his team this season is "trying to raise the bar on how much we do on the show in regards to number of zombies…"
• Andrew Lincoln talks to Rolling Stone about Season 3 and, when asked if Rick will ever laugh, he replies, "I don't think that's ever going to happen."
• Chatting with New York, Laurie Holden compares Andrea and Michonne to Thelma & Louise. Meanwhile, Danai Gurira does a video chat with MyFoxLA.
• David Morrissey tells TV Guide about killing his first zombie: "You never forget your first, and mine was a knife right in the head." (No Link.)
• Where's Merle? Michael Rooker talks about the heightened expectations for Merle's Season 3 return with The Austin Chronicle.
• The Tampa Bay Times interviews Chandler Riggs about Carl, observing he may have "the coolest job any 13-year-old boy has ever possessed."
• Entertainment Weekly publishes Steven Yeun's photo diary from the set. (No Link.) Also, Yeun appears on the cover of KoreAm and talks about how much he's enjoying playing "a non-stereotypical Asian character that's awesome" on a "really popular show."
• The Los Angeles Times compares The Walking Dead and Downton Abbey, noting they're "eerily similar in construct."
• MTV has a video of the cast and crew paying proper homage to a member of the group that was lost during the season premiere.
• The Walking Dead's Season 3 premiere ratings set a record with 10.9 million viewers, ranking as the most viewed episode of any drama in cable history, according to The New York Times. Entertainment Weekly deems the ratings "stunning," and the Los Angeles Times calls them "another sign of the growing programming power of cable TV." The Wall Street Journal asks, "Has the balance of power shifted on TV?" Ad Age adds, "AMC proved compelling content can still drive ratings."
• Comic Book Resources reports on its August visit to The Walking Dead's Georgia set.
• Irish Central highlights the use of an Irish ballad, "The Parting Glass," in the Season 3 premiere. ScreenCrush also spotlights Patrick Watson's "Noisy Sunday," played during a montage at the prison.
• TVLine talks to Glen Mazzara about a possible feature film prequel: "The way I look at this prison is when the outbreak happened, there was a zombie movie that took place in a prison. One day maybe we'll go back and film that movie."
• The Wall Street Journal looks in-depth at an actress, who plays a "hero walker" on The Walking Dead, getting a zombie makeover from Greg Nicotero.
• Glen Mazzara speaks with Fast Company's Co.CREATE about his showrunning style and how it can translate to "other types of businesses where creativity is a strong component and jobs are more precarious."
• BBC America reminds viewers that Andrew Lincoln is British.
• Bloody Disgusting details how The Walking Dead's Season 3 premiere took the show "into a new era of awesome."
• With Sarah Wayne Callies looking on, Rainn Wilson walks like a zombie on TV Guide Network's Rove LA. Callies explains how her grandfather inspired her work with the International Rescue Committee.
• Just Jared has a photo of some members of The Walking Dead cast and crew attending the maze inspired by the show at the Universal Studios Halloween Horror Nights event.
• ComicBook.com has an answer for why there are no zombie animals on The Walking Dead.
• Jon Bernthal appears on the November 2012 cover of Capitol File and talks to the magazine about Shane, "I thought, What an unbelievable character arc. What an unbelievable way for him to go."
• We Are Movie Geeks showcases the trailer and poster for Hello Herman, which stars Norman Reedus.
• For recaps and reviews of the Season 3 premiere, "Seed," check out The Atlanta Journal-Constitution, ComicBook.com, Entertainment Weekly (recap and review), E! Online, Fangoria, the Los Angeles Times, Rolling Stone, The Star-Ledger, TV.com, TVLine, The Washington Post and Zap2it.
Read More