Press
The Walking Dead Lands on EW's Must List; NY Post Awards Four-Star Review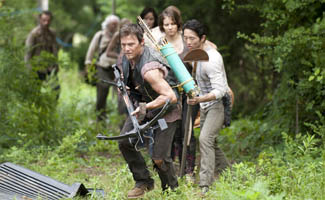 This week, The Walking Dead lands on Entertainment Weekly's Must List, while the New York Post awards the drama a four-star review. Plus, there are interviews galore with various cast and crew members. Read on for more:
• The Walking Dead appears on Entertainment Weekly's Must List, which heralds the return of "the zombie thriller." (No Link.)
• The New York Post bestows four stars in its review of The Walking Dead's new season, enthusing, "I'm loving every sickening minute of it."
• GQ trumpets the arrival of Michonne as "your new favorite TV character" and offers a primer on "the hooded avenger."
• Entertainment Weekly calls Season 3's first two episodes "AWESOME!" Variety's review thinks The Walking Dead is "now gliding along like a well-oiled machine." (No Link.) After watching the first two Season 3 episodes, The Huffington Post thinks Season 3 "may be the most satisfying year yet," and Newsday gives it an A+.
• In TV Guide's Season 3 preview, Gale Anne Hurd teases, "It's a world in which death looms around every corner. Some will fall prey — whether it's to the dead or to the living. It's time for the Ricktatorship." (No Link.) Hurd also talks to USA Today about Michonne and the Governor, two characters that are a "part of The Walking Dead comic book canon whose story lines continue to be woven into the series."
• "Frankly, every time anybody reads a script they live in mortal fear," Andrew Lincoln tells Entertainment Weekly as he makes the point that everyone on The Walking Dead is expendable. Lincoln also speaks with Celebuzz about Rick and Lori's marriage.
• Sarah Wayne Callies tells The New York Times that zombie concerns have driven traffic to the Centers for Disease Control and Prevention website. "If people learn to buy bottled water because of our show, I'm all for it," Callies says.
• Larry King hosts Andrew Lincoln and Sarah Wayne Callies and characterizes the series pilot script as "brave. It didn't try and over-tell a story, and there was a lot of humanity in it."
• The Hollywood Reporter marks the run-up to the Season 3 premiere by chatting with several pairs of cast and crew members: Norman Reedus & Michael Rooker, Steven Yeun & Lauren Cohan and Danai Gurira & Laurie Holden. Cohan also offers some mild spoilers to E! Online.
• Sarah Wayne Callies visits Last Call with Carson Daly and explains Lori's feelings about Rick: "I think she's afraid that, in the act of killing Shane, he kind of becomes him." (No Link.) Callies also appears on Q, a Canadian radio show.
• Robert Kirkman explains all about filming on the prison set to Comic Book Resources — and how the writers decided what to adapt from the graphic novel. MTV showcases the prison, comparing the TV version with what's found in the comic book.
• In The Huffington Post, Glen Mazzara characterizes his vision for Season 3: "I just wanted to feel that the whole world had gone to hell and our characters were trapped in it." Mazzara also talks to the Los Angeles Times and XfinityTV.com — and is profiled by Broadcasting & Cable (No Link.).
• Daily Dead interviews Gale Anne Hurd, who compliments David Morrissey as the Governor: "It is important that we have a villain that is not just a cardboard character, but someone you believe people can follow."
• Wired talks to Norman Reedus and Steven Yeun, who says of Michael Rooker, "Rooker is crazy. That guy is so fantastically watchable and horrifying as Merle that it's awesome the stuff he does."
• Norman Reedus, Danai Gurira, Gale Anne Hurd and Laurie Holden speak with Digital Spy, with Gurira sharing, "The beauty of the creators of the show and their vision is that they will always keep it in a different gear. You will never get comfortable and you will never find it predictable…"
• Steven Yeun tells G4's Attack of the Show that if your character is going to die, "Typically they're nice about letting you know ahead of time. They'll let you know personally." Yeun is also described by AsianWeek as someone who's "comfortable with being 'that familiar Asian guy' who incidentally gets the hot girl."
• Zap2it chats with Chandler Riggs, who discusses how much Carl has grown up in Season 3: "He's not even close to being afraid of killing a walker."
• Michael Rooker tells Starpulse that the scene in Season 1, Episode 3, "Tell It To The Frogs," where Merle cuts his hand off was "the most fabulous piece of writing I'd ever read."
• On the occasion of receiving a star on the Hollywood Walk of Fame, Gale Anne Hurd reflects on her career to The Hollywood Reporter. The U.K.'s Press Association features scenes from the ceremony, including a clip of Andrew Lincoln's speech, while the Los Angeles Times covered the event.
• E!'s The Soup presents Soup of The Walking Dead, featuring Robert Kirkman, Norman Reedus and Steven Yeun.
• Jethro Tull's Ian Anderson talks to The Insider about his son-in-law Andrew Lincoln and The Walking Dead.
• MTV provides a helpful cheat sheet for "the few television viewers who still haven't dialed into the Dead."
• According to People, the Jonas Brothers, Vanessa Hudgens, Connor Cruise, Diddy and Seth Green have all checked out The Walking Dead maze at Universal's Halloween Horror Nights.
• Comic Book Resources whets viewers' appetites by featuring a clip from the Season 3 premiere, "Seed," observing, "Even though the clip is only a minute long, it's still pretty exciting." Meanwhile, The Huffington Post and Today.com offer behind-the-scenes photos from Season 3.
• Yahoo! presents a parody of The Walking Dead entitled The Walking Almost Dead.
• A fan-produced music video titled "Barn Dance" features cardboard cutout puppets and uses the barn massacre in Season 2, Episode 7, "Pretty Much Dead Already," as a jumping-off point.
• The San Jose Mercury News highlights the marathon of The Walking Dead episodes on AMC ahead of the Season 3 premiere: "Sounds epic."
• Dread Central showcases pictures of The Walking Dead's Season 3 action figures (available March 2013): Michonne and her two Pet Zombies, Merle Dixon and the Autopsy Zombie.
Read More