Press
Glen Mazzara Is One of THR's Top Showrunners; Norman Reedus, Michael Rooker Chat with EW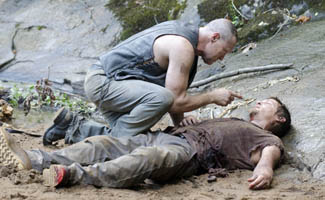 This week, Glen Mazzara is named one of The Hollywood Reporter's top showrunners, and Norman Reedus and Michael Rooker chat with Entertainment Weekly about the Dixon brothers. Plus, the Los Angeles Times reports on its visit to The Walking Dead's Georgia set. Read on for more:
• The Hollywood Reporter names Glen Mazzara — who compares Lifetime's Project Runway to a writers' room — one of TV's top 50 showrunners.
• Norman Reedus and Michael Rooker — "TV's most infamous brothers" — display little signs of Daryl and Merle's sibling rivalry when speaking to Entertainment Weekly.
• While visiting The Walking Dead set, the Los Angeles Times learns from Glen Mazzara that in Season 3, "We're doubling the threat, we have the zombies, we have the Governor."
• Glen Mazzara previews Season 3 and tells The Hollywood Reporter, "The pace is very different this year; it's a lot more suspenseful and intense than it was last year." Check out The Hollywood Reporter's gallery of Season 3 photos, along with commentary from the cast and crew.
• David Morrissey, a.k.a. the Governor, discusses Woodbury with Entertainment Weekly, calling it "an oasis in this madness."
• XfinityTV.com takes a look at Season 3 with the cast and crew, including Glen Mazzara, Gale Anne Hurd, Andrew Lincoln and Sarah Wayne Callies.
• Jet interviews Danai Gurira, who says that Michonne reminds her of a woman "who's taken on her own way of getting through a dire situation and become rather formidable." (No Link.)
• HILuxury profiles Sarah Wayne Callies, who talks extensively about The Walking Dead and observes, "Andy Lincoln and Jon Bernthal are two of the most talented actors I've ever known." (No Link.)
• According to Comic Book Resources, Robert Kirkman teases that The Walking Dead will be "pushing a lot of boundaries. Have you ever seen Breaking Bad? We can do stuff like that."
• Hometown Pasadena reports that Gale Anne Hurd was set to receive a star on the Hollywood Walk of Fame this week — and Andrew Lincoln was slated to be a guest speaker. Variety speaks with Hurd, who compares "a TV series to a marathon, and a feature film — even a big one — to a sprint." (No Link.)
• TV Guide introduces a new Season 3 trailer, asking, "Who would've thought a prison would be a safe place to raise a child?"
• The Washington Post highlights two of this week's Jeopardy! categories: "The Walking Dead" and "Where's Carl?"
• Anthrax's Scott Ian spends the day with Greg Nicotero for "Blood and Guts," a behind-the-scenes makeup FX show.
• The new "Cold Storage" series of The Walking Dead webisodes — developed, produced and directed by Greg Nicotero — are now online at AMCTV.com, E! Online, The Star-Ledger and USA Today.
• Entertainment Weekly provides the official Twitter hashtags and handles for TV shows this fall, including The Walking Dead (#TheWalkingDead / @WalkingDead_AMC).
• Flecking Records' list of top TV talent includes Norman Reedus ("boy, do we love him"), Andrew Lincoln ("a Brit actor doing a fantastic job playing an American") and Jon Bernthal ("it's most likely his bad boy ways and his rugged good looks that make us Team Shane").
• Talking to Smashing Interviews Magazine, Michael Rooker characterizes Merle as "a human being that is big time living, surviving and fighting" and explains what it means to get "Rookered."
• io9's hunt for the "most iconic comics artwork" translated to TV and film includes The Walking Dead's pilot as "almost a shot-for-shot remake of the first few issues."
• Atlanta magazine provides "important life lessons that transcend zombie geekdom" that were gleaned from watching The Walking Dead.
• The Stir lists five reasons why Season 3 will be the drama's most exciting yet.
• Dread Central introduces a new Season 3 promo "that reminds us to 'Fight the Dead' and 'Fear the Living.'"
• Comic Book Resources and Dread Central feature 35 photos from Season 3's first three episodes. Zap2it selects its five favorites. Dread Central also has another image of "a couple of more walkers on the prowl."
Read More