Games, Polls & Quizzes
The Most Popular Weapons in The Walking Dead Social Game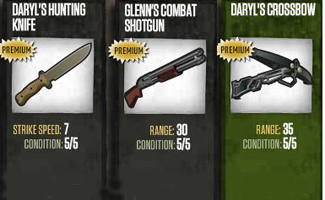 When playing The Walking Dead Social Game on Facebook, you're going to need a lot more than an old, cracked baseball bat to fend off the walkers. You're going to want a whole arsenal of weapons. Here's a look at the most popular weapons that people are currently buying in their quests to be the ultimate zombie-hunters.
1. Glenn's combat shot gun
2. Daryl's crossbow
3.
Daryl's knife
What's your favorite?

Read More