Press
McFarlane Toys Releases New The Walking Dead Action Figures This Halloween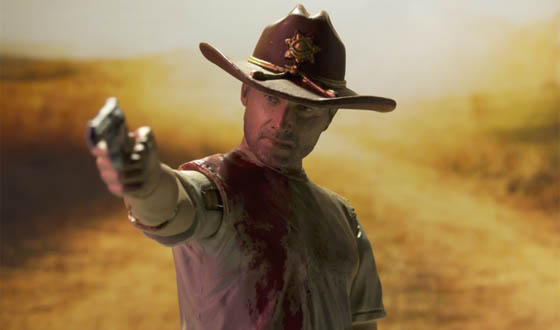 The battle between humans and the undead continues mid-October when McFarlane Toys releases The Walking Dead TV Series 2 action figures. Based on AMC's hit series, The Walking Dead, this second series line contains five fan favorite characters and zombies featuring realistic likeness to the characters from the show.
Like the first series, humans include multiple interchangeable accessories and several points of articulation for limitless possibility and customization. Each zombie figure features unique, gory play action.
This series is not for the faint of heart, so unless you totally dig gruesome zombies and kick-butt zombie killers, you may want to stop here. For those wishing to continue…Look after the jump to find out which The Walking Dead characters are included in the latest series!
Click here to pre-order McFarlane Toys' The Walking Dead Series 2 Action Figures from Amazon.com
SHANE WALSH
Shane will be featured in tactical attire with a shaved head and single-barrel shotgun, ready to pick off zombies at a moments notice.
DEPUTY RICK GRIMES
Rick is depicted in a brand-new sculpt in his civilian attire, prevalent in season two. Figure features interchangeable hands to hold multiple weapons, along with 14 points of articulation. Additional accessories include removable revolver, rifle with strap, and animal control stick for zombie catching.
BICYCLE GIRL ZOMBIE
The maimed zombie girl shown crawling next to her bicycle in a park turned out to be one of the most iconic zombies from season one. Figure features an eerie reaching motion play-action while lying on her base. Accessories include a damaged cell phone and jeans.
WELL ZOMBIE
A rotten, bloated zombie surprise resting at the bottom of Hershel's water well that the survivors eventually attempt to hoist out by using Glenn as bait. Figure includes 9 points of articulation with a pull-apart play-action that reveals his soft gooey guts inside. Accessories include attached rope and canned ham.
RV ZOMBIE
During the opening scene of season two, a mob of flesh-eating zombies swarm the group. Unaware of the flesh-eating zombie onslaught, Andrea becomes trapped in the recreational vehicle when one climbs aboard. Our zombie figure simulates that scene with a flip-back head play-action and a removable screwdriver in its eye.
B&W BLOODY ZOMBIE 3-PACK
Just like the full-color figure from The Walking Dead TV Series 2, this bloody black & white zombie 3-pack features all of the detail, accessories, and play action of the standard full-color figures. Pack includes Bicycle Girl, Well Zombie, and RV Zombie.
For more information on McFarlane Toys' The Walking Dead figures and where to buy nationwide visit McFarlane.com
Read More