Games, Polls & Quizzes
The Walking Dead Social Game – This Week's Tip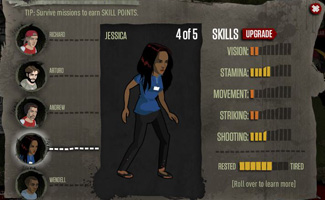 In The Walking Dead Social Game, experience really does count for something. For
instance, after a few missions, you'll earn skill points which you can
apply later to improve your character's vision, stamina, range of motion,
striking ability and shooting accuracy. If you amass some skill points in the
first chapter of the game, you'll be that much better equipped for the upcoming Chapter 2.

The Walking Dead returns Sun., Oct. 14 at 9/8c on AMC.
Read More